Horizon Guides tries crowdfunding – feedback from the campaign
November 6th, 2017
Alex Bainbridge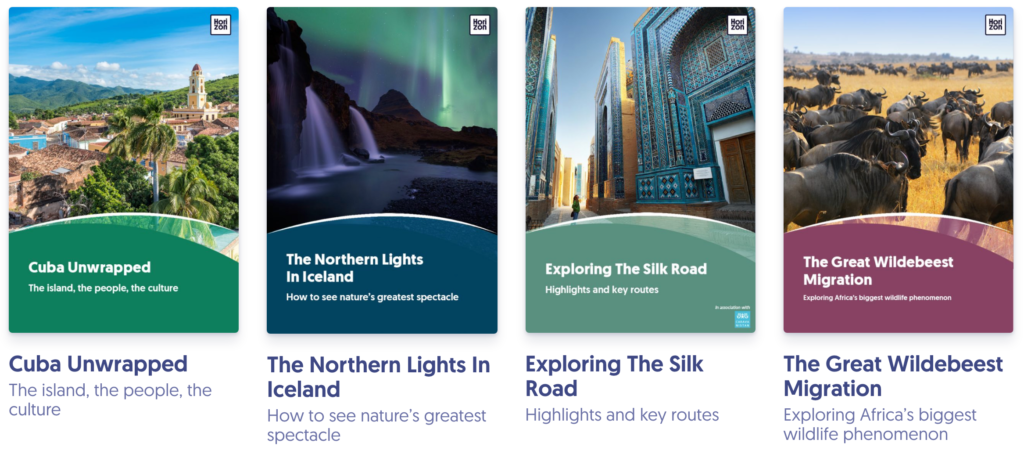 In October 2017 Horizon Guides tried crowdfunding for their novel tour guide based marketing as a service solution for multi-day tour operators. Ultimately, they didn't raise the money they were looking for but still describe the campaign as valuable.
We interviewed founder Matthew Barker about how the crowdfunding went and what he would suggest to other founders looking to go the crowdfunding route:
What is Horizon Guides? How does it work?
​Horizon Guides is a B2B marketing solution for SME tour operators. We take the entire challenge of "content marketing" and customer acquisition off their plates, making it much easier and cheaper to reach their customers. These businesses can easily spend upwards of $200 per acquisition, we help them bring it down towards $20.
Over the last 12 months we've demonstrated our concept with an MVP, bootstrapping to 15 partners with established recurring revenue. We're now in a position to scale up and further develop the product, and we're raising a seed round to help make that possible.
Our long-term vision is to be the primary marketing channel for our partners. We want to eliminate their unhealthy dependency on PPC advertising and crappy content marketing. At the same time we're creating an incomparably better user experience for the consumer, while throwing a lifeline to an important but often overlooked segment of the travel industry.
What is a guide How much does a supplier pay? What is their likely return? How does this ROI calc work out vs other forms of digital marketing?
The guides are written around experiences or activities, for example seeing the wildebeest migration or trekking in Patagonia. Each guide is sponsored by a partner who pays us on a monthly recurring basis to access the audiences, leads and enquiries that we generate on their behalf.
We use a combination of channels to acquire traffic from consumers who are proactively researching that experience. When they download a guide they can opt in to receive more information from our partner.
The key deliverable (with our MVP) is opt-in leads and audiences. Our partners use these audiences in their follow-up marketing via email, Adwords and Facebook. In effect we're outsourcing their content marketing and providing them with a warm, qualified audience of people who are in-market for their trips. ROI is measured by reductions in their cost-per-acquisition (CPA) – so far we've enabled our partners to reduce their CPA by up to 80%.
Prices range from $360 to $1,000+ per month depending on the volume, features and level of support required.
Because we're optimising the entire funnel and aggregating the process across dozens of operators we can unlock massive economies of scale. Our cost of content creation, audience acquisition, and conversion are all vastly lower than an individual operator trying to do it alone. Once we've acquired a user we can share then between relevant operators, which lets them share the benefit of repeat bookings.
Why crowdfunding?
Partially because we've found it hard to raise via the mainstream channels. We tick all the wrong boxes for lots of investors: they're scared of travel investments, they don't invest in content/publishing, they don't like arbitrage, etc… We were able to get some of the money together with a group of angels and tried crowdfunding as a way of completing the round.
In the end we didn't cross the finish line but we did make connections with some great new investors, so it's looking positive that we'll close a round fairly soon.
Why Crowdcube? Who else did you look at? Did they bring new potential investors to you or were the people who did commit mainly people who knew about you before?​
It was a toss-up between Crowdcube and Seedrs. Crowdcube has a bigger network and although it seems to be more B2C focused, we do have a strong consumer-facing angle with our travel guides that we thought could play well.
Most of the committed money came from our own network, very little came from Crowdcube. In practice the "crowd" is a bit of a misnomer – you have to bring your own crowd to the platform and Crowdcube will do relatively little to promote the campaign until you look likely to complete (they only make % from successful campaigns).
The few "crowd" investors that did take an interest seemed to be looking for a very different type of opportunity. We had lots of questions about dividends and no questions about our churn rate, LTV, CAC, etc, which suggests that the network is less interested in high growth, SaaS / tech businesses.
If you were giving advice to other startups working with tour suppliers who are looking to raise, would you suggest crowd funding?
Crowdfunding clearly does work – lots of other campaigns are successful – ​but you need to have a super clear proposition. In the end our messaging was too messy and complex. You also need to have a LOT of the money pre-arranged up front. But then if you're bringing in most of the money yourself you might as well use Seed Legals for a fraction of the cost, or go to one of the co-investment funds and save the hassle of running a public fundraising campaign.
Anything you would do differently next time?
In hindsight we should probably have waited until our product was a little more defined, with a bit more traction under our belts. That would have brought a lot more clarity to the message and valuation. I'd probably also look closer at Seedrs to see if it's better aligned with tech/SaaS business models.
Whats next?
​The whole process has actually been really valuable: the extra visibility has brought in a load of new business, and we're now talking to some really good investors about putting our round together privately.
That buys us more time to focus on our product and traction. We've got some pretty big things in the works, but you'll have to stay tuned to find out more!
Tech North also interviewed Horizon Guides about their crowdfunding adventure….
Thank you to Tech North / Kane Fulton for the video
This content is protected by copyright. Link sharing is encouraged but duplication and redistribution is illegal