GetYourGuide Preferred Partner Programme – what are the wider issues?
August 2nd, 2019

by Alex Bainbridge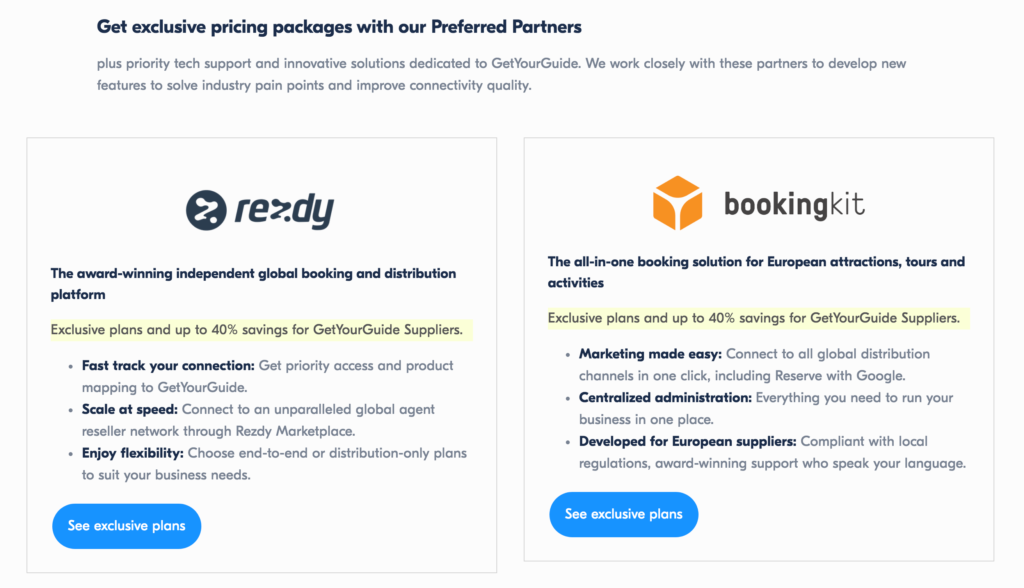 GetYourGuide, the largest funded sightseeing & experiences retailer in the industry, made an interesting statement yesterday via Phocuswire. If you read this blog you probably have already read the article….. if not, go and read it now. Written by GetYourGuide COO Tao Tao, it outlines their new Preferred Partner Programme.
There is going to be a great deal written about this announcement. I predict, in a few years, this will be a point where we will look back and say "it changed then".
I am not going to dissect the article line by line, I went into detail yesterday on the 1 hour Tourpreneur podcast recorded last night. (Also worth a listen!). Also, quite a lot of what will be discussed with be of little interest to wider audiences (ha, thats probably true of most things I write, but anyway!).
Not a bold prediction: you're right https://t.co/SdgoWdvQQi

— Douglas Quinby (@douglasquinby) August 1, 2019
So instead I want to bring it back to three fundamental points that should be of interest to local tour operators & suppliers.
Is GetYourGuide saying they are not going to buy any reservation system in the future?
"Therefore, we think it's important that our industry develops strong, independent reservation systems that are fully and exclusively aligned with the interest of tour operators."
For a healthy reservation system ecosystem we need founders to have exits. Where should these res system founders exit to? If you don't have exits in a sector, you won't have new entrants…… and founders will just relax and not deliver amazing new innovations because they are under no commercial pressure to be better.
Not concerned that GetYourGuide won't buy now (by the sound of it) as that is just one path that is blocked.
What is more concerning is the general signal this sends will be unhelpful to attract or retain reservation system investors, current or future.
We probably need to get back to tour operators owning their own reservation systems, or at least tour operators owning some equity in their key tech, if you want truly independent reservation systems. Or perhaps a model like the blockchain companies use, where the management of the tech is done by an independent non-profit foundation, for the good of the members.
The role of the channel manager has changed
A channel manager traditionally (e.g. within the hotel industry) is tech that sits between the reservation system and the retailer. It makes it easier for retailers to connect to multiple reservation systems & reservation systems to connect to multiple retailers. Once connected, it makes it easier for an individual tour operator to manage their distribution channels – e.g. allocating a certain quantity of product to one retailer, dynamically adjusting prices etc.
In the GetYourGuide press release it talks about offering tour operators using reservation systems in the preferred partner programme (Rezdy / BookingKit) "faster innovations". This is a kind of preferencing. It is clear if you are a tour operator and you put your product on Rezdy or BookingKit, you will get better service than if you are on another reservation system.
As a tour operator you now need:
A Bokun account, to take advantage of TripAdvisor / Viator preferencing
A Fareharbor account, to take advantage of Booking Holdings preferencing
A Rezdy or BookingKit account to take advantage of GetYourGuide preferencing
Will Booking let there be a channel manager between Fareharbor and Booking? No. Will Tripadvisor permit a channel manager between Bokun and TripAdvisor / Viator? No. Will GetYourGuide welcome a channel manager between Rezdy / BookingKit and GetYourGuide? Unlikely.
So channel managers are going to have to adapt, and quickly.
They will need to reposition to BELOW the reservation system layer…… enabling tour operators to have multiple retailer preferenced "reservation system" accounts managed from a single location. But this makes the channel manager the tech nearest the tour operator….. which is effectively a new style of reservation system.
This is a lot of work for existing channel managers. If they don't do it, they are not going to have a future purpose….
Not sure Melanie (Redeam) has spotted this impending challenge yet!
<< Tao Tao, I want to seco@tao_taoassertion that tours & attractions need to strive to maintain *the right* kind of independence. This doesn't mean trying to go it alone, altogether avoiding third party solutions, or solving techn…https://t.co/E35OP3bS1I https://t.co/2rD3sbsPFc

— Melanie Ryan Meador (@MelanieRyan) August 1, 2019
GetYourGuide Originals
Although never mentioned, this announcement was all about who gets to build GetYourGuide Originals in the coming years.
This is where you have 3 layers all GetYourGuide branded:
Consumer facing retail
Technology
Supplier / tour operator (e.g. running tours in GetYourGuide brand)
This model is like Uber….  I previously thought independent reservation systems will not be needed within this model. Now it appears they will be, but not every reservation system. The only reservation systems needed will be those that have agreed to keep developing based on GetYourGuide requirements, i.e. those within the Preferred Partner Programme.
Whatever you think of GetYourGuide Originals – some see it as a threat, others I think will love it – as a small tour operator you do need to think about it and take a position. Either you are going to be competing with it, or you will join it, or you will join Klook or AirBnb with similar programmes. You can't sit on the fence on this. The 3 largest VC funded companies in this sector are using this as their future trading model….. its going to happen.
If you think GetYourGuide Originals is a great idea, get onto Rezdy / BookingKit as soon as you can! 😉
(For the record, I think GetYourGuide Originals is the best thing that GetYourGuide has done, but I am not an existing tour operator!)
Summary
Watch the video above. GetYourGuide are in this to win this. This announcement is not some kind of hipster, open source, open industry, mindset going on here with this Preferred Partner Programme. GetYourGuide are risking hundreds of millions of dollars to win, and win big. Analyse everything GetYourGuide does or says through that lens.
Is this entire programme a grand distraction, buying GetYourGuide time to build up GetYourGuide Originals? (That doesn't require reservation system technology layer?). Hard to tell. It is however the only motivation that makes sense to me.
Res systems plan and build a couple of years ahead. Much of those plans will have to be revisited now…… not necessarily because of GetYourGuide's recent actions, but this will be a mind focussing tipping point to show us all where we are going to be in the coming years and that current tech is now pretty much obsolete.
For sure, this is not politics. This matters to tour operators.
This content is protected by copyright. Link sharing is encouraged but duplication and redistribution is illegal