The beginning of the end of the sightseeing bus
September 25th, 2019
Alex Bainbridge
Human driven sightseeing buses have had a good 100 year run.
Throughout this period the urban consumer product has not changed – a city bus tour you took 100 years ago is pretty much the same as a bus tour you can take today. All the digital innovations and changes we have brought to market over recent years have been about retail and distribution, plus some ticket redemption adjustments. Nothing with the product experience itself (adding Wifi doesn't count!).
As is fairly common knowledge, I have plans to bring sightseeing vehicles into the modern era using AI and autonomous vehicle technology. When I was looking at how to transition the industry to these new vehicles (and completely new customer experiences) I thought that I would have to convince incumbents based on a few factors:
Customer experience – we have the potential to deliver a far improved customer experience autonomously in smaller vehicles than human driven in larger sightseeing vehicles
Financial – if you buy a bus you expect 15 years use (e.g. for hop on hop off use, luxury coaches have lower use expectation). If autonomous vehicles are here in e.g. 5-7 years, you have to start to transition towards this change now, or at least hedging your exposure, as newly purchased vehicles won't attain their full commercial use. The car hire business is already changing, the car dealership industry is in full-blown panic mode….. and now the vehicle based sightseeing industry has to start preparing for change too.
Sustainability – smaller electric vehicles
Overtourism – helping to address via dispersal
Personalisation – the ability to deliver digitally personalised product at scale
Evolution of consumer behaviour – changing customer preferences towards experiences
Market – the changing competitive landscape created by other tourist mobility providers (e.g. ride-hailing / micro-mobility etc)
etc !
I have been lining up to make these arguments (e.g. this article in Phocuswire) however over the last 6 months something curious has happened. Cities have, quite independently, started to ban sightseeing buses from their city centres:
Rome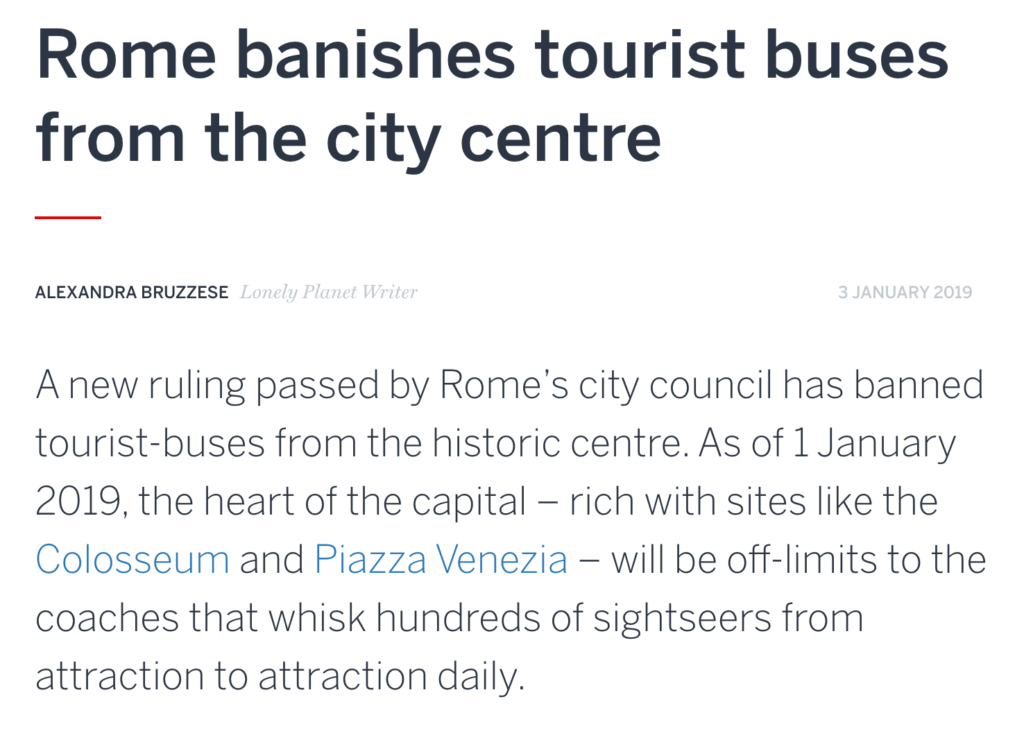 https://www.lonelyplanet.com/articles/rome-bans-tourist-buses-city-centre
Paris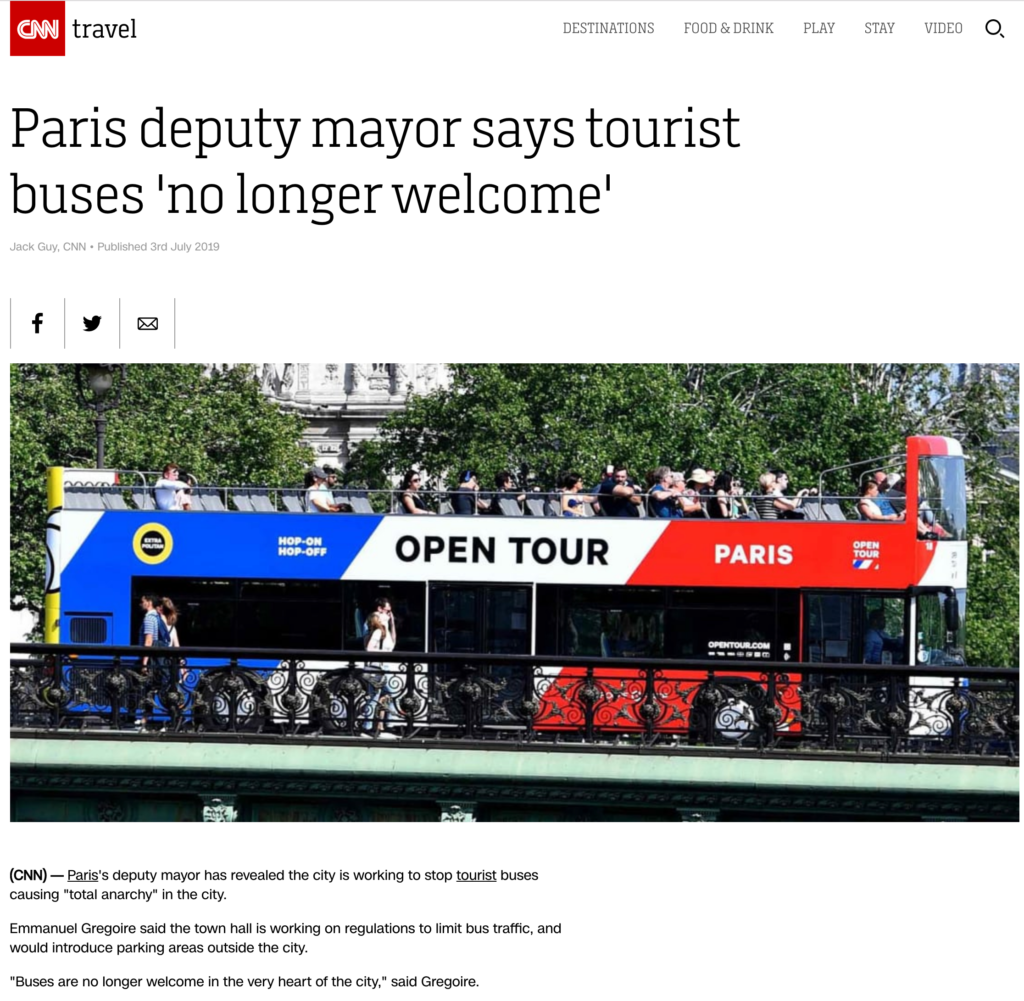 https://edition.cnn.com/travel/article/paris-tourist-bus-ban-scli-intl/index.html
Oslo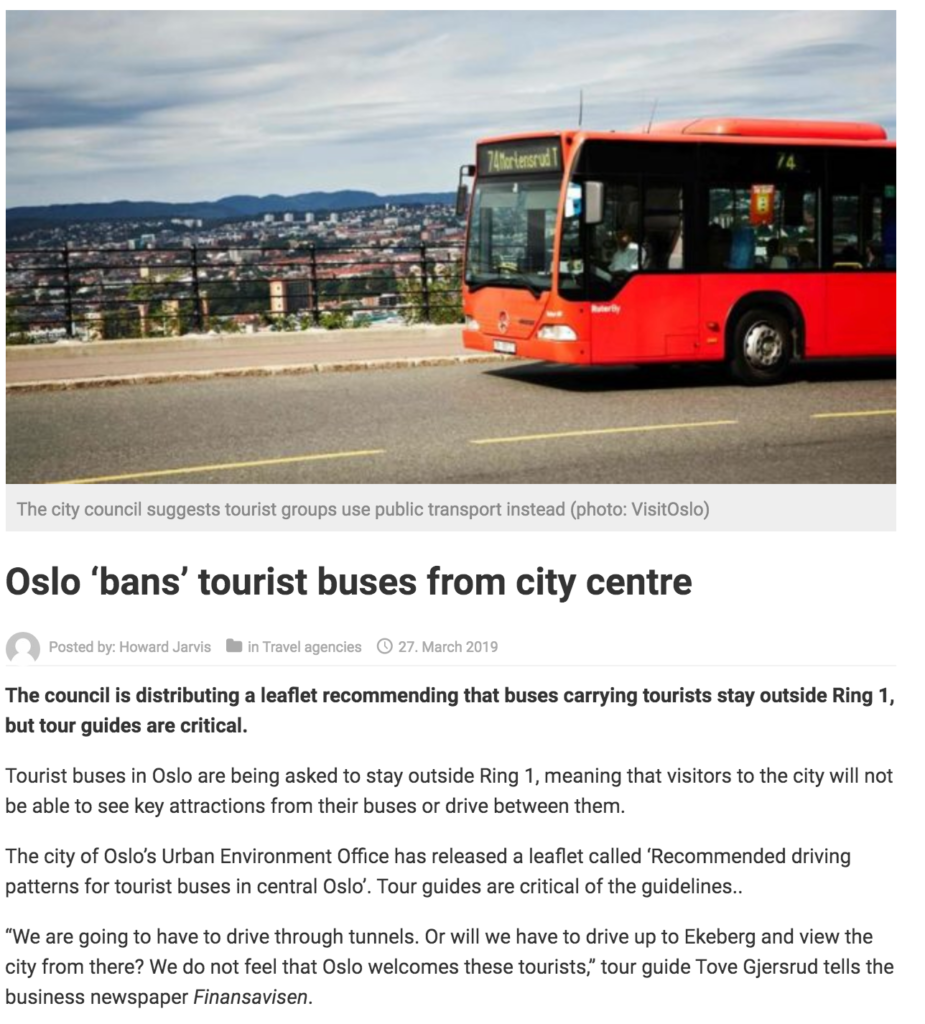 https://standbynordic.com/oslo-bans-tourist-buses-from-city-centre/
London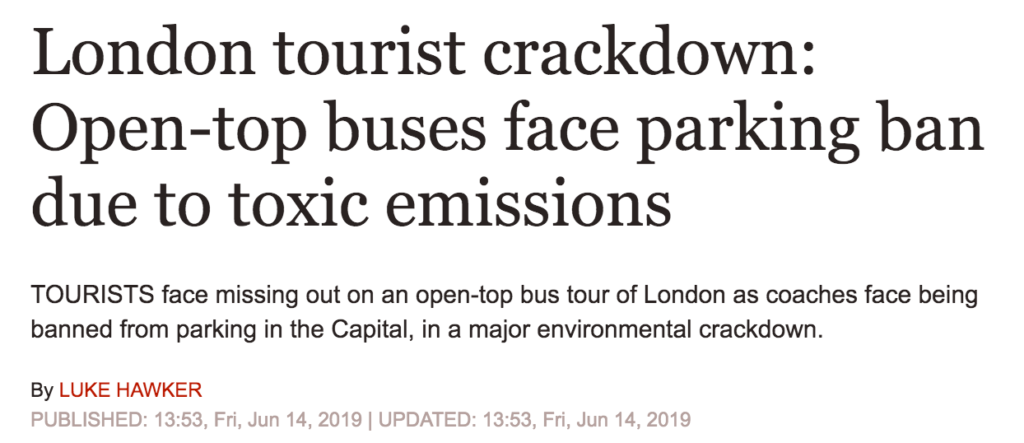 https://www.express.co.uk/news/uk/1140530/london-news-tourist-travel-coach-ban-parking-Westminster-council-public-transport
Etc..
I have many more examples. Think you get the point. This is all recent, all 2019.
Seems that regardless how successful I am transitioning incumbents to an autonomous vehicle roadmap, traditional sightseeing buses are no longer going to be accepted by cities as viable tourist transport.
My new worry is whether I am ready to transition the existing industry now, before everyone is banned and goes out of business!
If you are a franchisee / member of a bus sightseeing network……. shout. I can get around these city bans (by using vehicles that are not banned) while keeping your business reasonably well intact. We will permit dual branding, so you can retain your existing franchise brand relationship or use your local company name and our brand in a new biz. Contact via Autoura website.
A final thought about climate change
We ALL need to do our part to transition the travel industry in general to be more sustainable. Electric autonomous sightseeing vehicles have a role to play.
Johannes Reck, GetYourGuide CEO, tweeted this the other day….
The hard truths about Climate Change:
#1 China, US & EU must act in coordination NOW
#2 Coal should be immediately abandoned
#3 Nuclear energy is needed as a bridge
#4 Hydrogen + other alternative fuels need to be explored and tested asap
#5 Reforestation https://t.co/ppuXgih6kQ

— Johannes Reck (@JohannesReck) September 22, 2019
I am doing my bit with hop on hop off buses. Hey reader, what are you doing?
Image: Flickr: Boston Library
This content is protected by copyright. Link sharing is encouraged but duplication and redistribution is illegal
Comments
2 responses to "The beginning of the end of the sightseeing bus"