Multi-day tour digital retailing 1999 to 2025
December 11th, 2017

by Alex Bainbridge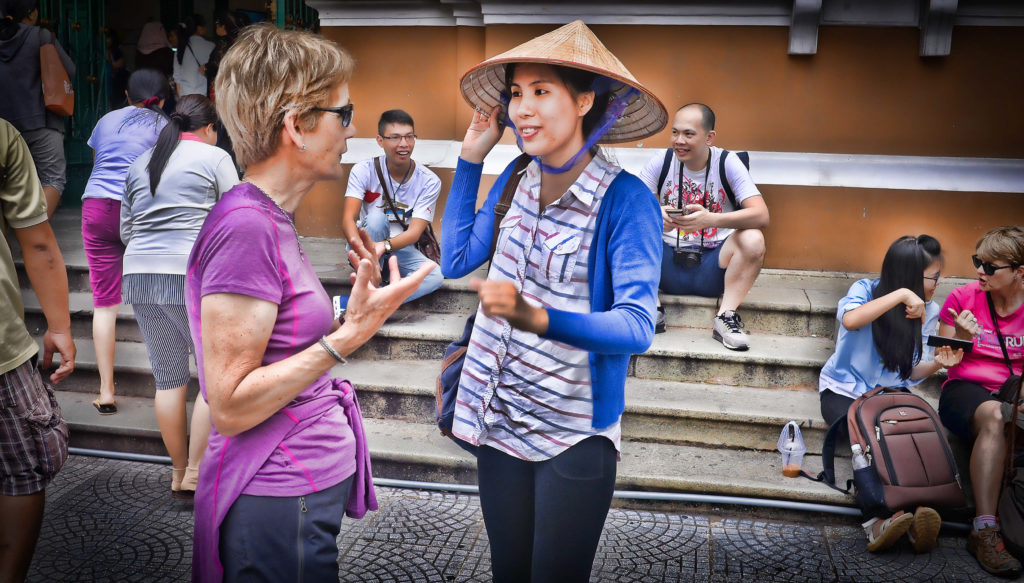 Broadly, the interest (& investment) for retailers selling local tours has been in day tours & experiences. They are easy to sell from the published itinerary. They are also nice upsells from a hotel or flight booking.
Multi-day tours have been left to pretty much continue without significant digital retailer influences (I will talk about Google later). The hotel centric online travel agents like Priceline, Expedia, TripAdvisor haven't wanted to sacrifice hotel commission for multi-day tour commission. (Multi-day tours include accommodation using the tour operators contracts not OTA contracts)
But new tech lead change is coming to the sector. Before we speculate about that, lets look at the innovation phases so far:
Phase 1 – End of brochures
Back in the day customers booked multi-day tours from brochures. A brochure contained various tour itineraries and a booking form. The customer would complete the booking form (handwriting) and post it with payment deposit.
Simple 🙂
I can't recall exactly when but I think 1999 I founded a multi-day tour operator and we were lauded as the first tour supplier (UK) who were brochureless. Such was cutting edge innovation at the time.
This phase has continued pretty much unchanged to this day. All you need is a website and an online marketing budget (Google PPC) and you can create a reasonable business (with a bit of skill and sufficient operating margin).
Web marketing has always been difficult for day tours as 10% of 100 USD doesn't create much marketing budget (unless you have repeat customers). In multi-day tours allocating 10% of 2000 USD on digital marketing does create sufficient budget from a single transaction. As a result a regular website + PPC was good for multi-day tour suppliers in this phase.
Phase 2 – Description, images & availability distribution to retailers
Companies like TourRadar, AdventureLink and Excursiopedia saw an opportunity to take tour description data (images, itinerary, dates, prices, availability) direct from supplier technology systems and retail to customers & travel agents using that data.
Long tail multi-day tours don't always run every week. These inconsistent schedules means taking the tour schedule from data APIs rather than employing staff to enter into a system was a step forwards on both accuracy and efficiency.
Back in 2014 (not very long ago actually!) TourRadar, now the largest multi-day tour retailer, initially tested supplier direct tech integration with TourCMS, the company I was until recently CEO of. Hence been personally close to the innovation point of this phase also.
Phase 3 – Trip planning services
VC funded trip planning services cropped up almost in parallel with descriptions and availability distribution (phase 2).
Conceptually these helped customers create day and multi-day itineraries either via functionality, or sometimes by hiring a "local expert" to create an itinerary for you.
On paper this looks like a good idea and entrepreneurs are still trying this today.
Ultimately a misstep because either a customer:
Enjoys trip planning – so is happy to spend the time researching the possibilities. Indeed this research phase is part of the enjoyment from their entire trip. They don't want to curtail this phase.
Hates trip planning – they want the low risk option and are likely to book a multi-day tour based on a published itinerary. This will cover all the key points they want to do and not require too much pre-planning.
We collectively had to go through the trip planning startup phase because it seems a natural followon. But it hasn't worked, lets get over this!
Maybe AI will fix this in a new way….  enhanced tools that tell you that what you want to do is not very sensible. So perhaps trip planning startups may make a comeback….. but not how previously executed, at least.
Where opportunities are on this is trip spontaneity, "I am currently in the destination what shall I do" – which is a different problem to the planning problem which infers ahead of time solutions.
Looking further ahead….
Into speculation….
Phase 4 – Sales chatbots
What a customer buys when they are buying a multi-day tour is expertise. This expertise comes in a variety of forms – the itinerary design (including pacing), the tour guide (unless self guided) and expertise / knowledge applied during the sales process.
The multi-day tour sales process is massively human dominated right now (2017). Nearly every sale has a customer interaction…… (Compare this to day tours, where its much more like ecommerce, generally no interaction required on most sales)
Chatbots in 2017 don't look like replacing this, but give it a few years, seems likely they can solve this to a certain extent.
This is going to be expensive tech, the kind of tech that only a few companies will have access to…… i.e. the Priceline chatbot, the Expedia chatbot, the Ctrip chatbot etc…..
However several non-OTA companies have started investigating this. E.g. The Travel Network Group which is recording human travel agents in conversation with customers – they are going to be creating amazing real world data that will be very useful to train a multi-day chatbot AI. Not sure anyone has told their humans though!
Retailers with this tech advantage will be better positioned than suppliers. Suppliers will be OK with this as this is why they pay their commission until….. well until they are not needed…
Phase 5 – Self driving cars
A car will be able to deliver a multi-day tour very effectively – picking you up from Hotel A, taking you on an itinerary, taking you to Hotel B (maybe in another city), all without friction or hassle.
Two important points:
The big tech dominated companies (the current Online Travel Agents) will be the platform owners
Self-driving car tours can use existing OTA hotel contracts giving the OTAs a reason to be interested in these tours.
Self driving cars coupled with chatbots will mean that a multi-day tours are going to be sold and delivered radically differently in the coming years.
The whole market may not change, some tours may be protected from the impact of self driving cars (e.g. mountain treks), but substantial change is coming and suppliers should be preparing for this opportunity / risk today.
Summary
Even though spent my recent years in the day tour sector, I like multi-day tours as a sector. There is money to be made here. Upto this point it has been fairly tech light on the retail travel agent side but tech influence is coming. This tech will unbalance the sector and make it winner takes all.
The supplier direct era enhanced by Google may be coming to an end.
Photo: Our first guide Kim with classic Vietnamese headgear by Piktour UK (CC BY 2.0) (Source)
This content is protected by copyright. Link sharing is encouraged but duplication and redistribution is illegal
Comments
One response to "Multi-day tour digital retailing 1999 to 2025"