Is metasearch in tours & activities a layer too far? Thoughts on Google TouringBird
September 13th, 2018
Alex Bainbridge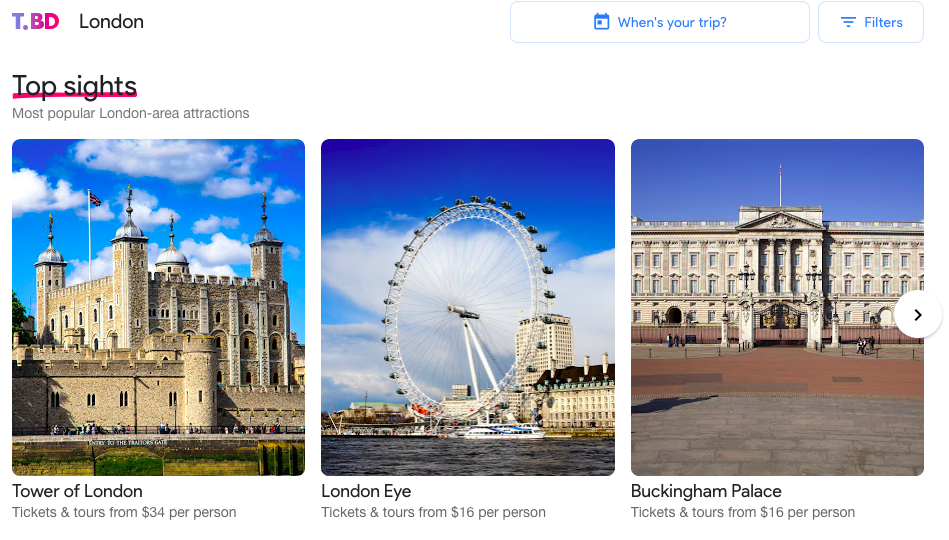 Plenty of chatter in the tours & activities sector in recent days following Google's entry into the sector with their TouringBird service. Launched with a reasonable 25,000 activities in 20 cities they are showing that they are taking the opportunity seriously even though not quite yet ready to apply the Google brand and expose all Google search engine users. (Technically its still classified as an experimental product from their Area120 programme)
TouringBird is conceptually a metasearch because it sends bookings to multiple retailers (such as Viator, Expedia, GetYourGuide, Musement & others) rather than to suppliers directly.
However it is not quite the same as you would find in airline or hotel metasearch. In those travel industry sectors customers generally compare the same product and metasearch services present prices for booking via different channels, normally suggesting the customer books the lowest price option.
Instead TouringBird is using the metasearch concept to create a wide range of opportunities, from which the customer will select one. The customer then books with the retailer directly, on the retailers own website.
Is it going to work?
I am a big fan of experimentation in this sector. We are a long way from everything being cast in stone and sometimes the only way to find out the problems is to try it. As such, this is a great project from Google.
However I am not convinced that metasearch works in the tours & activities sector. These are structural issues rather than anything related to Google specifically. Any tours & activities sector metasearch will face the same issues.
I have three key questions / concerns:
Commission escalation
For a long time we have had a simple two layer setup for retail commission. Retailers take 20%, suppliers take 80% (plus supplier tech perhaps taking a few % on the way). Attractions can be higher as they have lower marginal costs…. but this isn't an article about commission!
If you add any significant business ABOVE the retailers (i.e nearest to the consumer) they will want a reasonable commission share. This is tempting middle layer retailers to push up to 30-35% supplier commission, enabling these retailers to give 15-20% to the new metasearch layer companies above them such as Google/TouringBird.
This increased commission would apply to ALL retail bookings even if only a small % are actually delivered by companies like TouringBird above. i.e. a general retail layer commission escalation.
Not sure suppliers are going to accept this commission escalation….. and without this escalation, any top layer business (e.g. Google/TouringBird) will be stuck on 5-10% commission that is available to any small scale affiliate.
Commission problems by themselves should probably be sufficient to kill any metasearch ideas…. but there are other problems….
Customer service
As an industry, we need to fix customer service – its really not fit for purpose right now.
The problem stems from where we evolved from – we came from tours & activities either being sold as a hotel / flight upsell – weeks before travel – in which case any issues the customer has with their booking can be fixed within office hours (e.g. 8 hours later) via email. The delay in answering was not a major problem to the consumer.
Or we evolved from in destination sales that were face to face – visitor centres, street sellers, hotel concierges etc. Those companies dealt with any issues and as it was face to face it could be solved there and then.
BUT now we are all pushing to live last minute mobile bookings – people booking 2 hours before their tour starts (or even 10 minutes before, if standing in a queue and wanting to buy a skip the line ticket).
Customer service now has to be live customer service – chat based (either human or AI delivered) rather than email based. Live live live.
Transitioning retailers to live customer support (and ensuring they have sufficient knowledge to actually answer questions) is already a problem we haven't collectively solved yet – but needs to be solved if retailers want to take last minute mobile bookings…… adding another layer ABOVE the retailers (e.g. transactional metasearch) will just make the problem even more challenging to solve.
Perhaps we can work out how to distribute live support capability from supplier > retailer > metasearch but this will take a lot of cross industry discussion & implementation. Without this, humm, not sure metasearch can progress beyond a simple web traffic redirection to retailers….
Non-static product
The next phase in tour & activity distribution innovation is personalised products. Either this means helping with matching customer to experience….. or the experience itself, at point of booking, being adjusted to match the customer.
Both require significant customer profile information to either transmit from the retailer to the supplier, or appropriateness to transmit from the supplier to the retailer.
This is complex.
I don't see how adding an additional layer ABOVE current retailers is going to help this happen. It makes something already very tricky to roll out on a cross-industry basis significantly harder.
Final thoughts
Love that Google is joining the fray. Think they have to shift from being a metasearch to going straight to supplier reservation systems – then its game on!
This content is protected by copyright. Link sharing is encouraged but duplication and redistribution is illegal
Comments
3 responses to "Is metasearch in tours & activities a layer too far? Thoughts on Google TouringBird"