Threats and opportunities from GetYourGuide's 484 million USD funding
May 21st, 2019

by Alex Bainbridge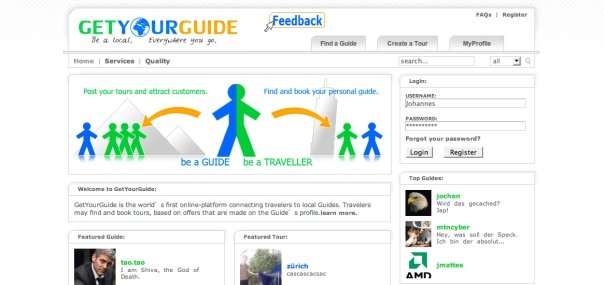 Last week GetYourGuide announced their Series E funding of $484 million USD. I try not to write about individual companies however last weeks GetYourGuide funding announcement requires a bit of extraordinary analysis.
Apart from the money (and their now unicorn status) the fundamental parts of the announcement are:
The investment enables GetYourGuide to accelerate its momentum toward building the world's leading travel experiences brand
The continued focus on increasing their own tour product "with at least 25 new destinations and significant product enhancements slated for rollout"
I wrote last week about some of these impacts but it was hard to pull out of that article what it means to different companies. This article is an attempt to rewrite with more clarity, now we have had the official announcement 😉
The tour product expansion appears critical for overall success. It was becoming clear that the "free" consumer traffic that the online travel agents such as TripAdvisor and Expedia were able to redirect from their hotel and flight bookers to their own tour retail silos put GetYourGuide at a disadvantage. With GetYourGuide's tour operation, they are able to jump one step ahead, perhaps also in a direction the online travel agents won't wish to head towards.
It has become a "pivot or die" strategy, forced on them by their incessant need for further growth
GetYourGuide joins Uber, Lyft and Airbnb with similar scale created dilemmas: Uber / Lyft have to move from human drivers to autonomous taxis, Airbnb must move from a private accommodation marketplace to booking conventional hotels. What got all these companies to their current leading positions is not what they will be focused on in five years time. Tricky transitions ahead.
What does this mean to suppliers, online travel agents, supplier reservation systems and other startups?
Suppliers / tour operators
Seems unlikely they will stop at the currently announced 25 cities. For comparison, Uber is in 600 cities.
Threats
GetYourGuide will be operating tours and will do local distribution deals. The product experience starts at the retail experience, GetYourGuide will get very good at joining this up, certainly better than most local suppliers / tour operators
GetYourGuide will be able to deliver global tour operating deals – e.g. with hotel chains & airlines
Opportunities
Suppliers can operate their tours (where you are more like an Uber driver, you do this in their brand). They will be hiring tour guides / partnering at scale
GetYourGuide has to make this work – their valuation and future success relies on it. If you have a local competitive advantage that GetYourGuide can't replicate quickly by themselves, GetYourGuide may be keen to work with you rather than compete with you
Overall: Threat, unless you just want a job
Online travel agents (OTAs) e.g. those with hotel / flight booking
Threats
GetYourGuide can start to personalise the real world product, rather than personalise the retail experience. I believe this will, ultimately, be a more powerful idea than retailing
Opportunities
OTAs have strong financial reserves but they prioritise hotel & flight technology projects. The shock of this GetYourGuide funding round might just be a sufficient kick to get tour & activity projects prioritised that are either standalone or cross sector (e.g. combined with hotels & flight booking / delivery). This is the OTAs only remaining competitive strength, their last card to play. The challenge for the online travel agents is delivering ambitious hotel / tour & activity projects that are not able to be immediately copied by Airbnb with their growing hotel booking capability. More likely actually Airbnb will be leading the way…..
Overall – if OTAs continue doing what they have been doing, GetYourGuide is a big threat.
Supplier reservation & distribution systems
GetYourGuide will innovate rapidly when fully vertically integrated
Threats
The vertical integration model doesn't require your supplier reservation system technology. If the industry moves this way, you are in trouble. Not a single mention of supplier reservation systems in the GetYourGuide announcement
Opportunities
Suppliers that wish to remain independent will see that speed of innovation is what is matters now. You remember those tricky cross-industry projects that didn't seem important to fully commit to a few months ago, they need to happen now…. with the mutually agreed ambition of improving vertical innovation speed to match GetYourGuide's. At least now there is something everyone will agree on 😉
Overall – opportunity. Not necessarily with deals with GetYourGuide, but many reservation systems are still lead by their initial, innovative, founders. They will now collaborate and innovate as it is now clear they have to, to survive
Other startups
Threats
GetYourGuide and Klook are well resourced. A 1 million USD round is not going to cut it now.
Opportunities
GetYourGuide have had to telegraph in what direction they are having to pivot to. Agile founders with smaller, local, startups can get there first on parts of the overall picture and become viable acquisition targets for GetYourGuide and those that have to acquire to catch up
Investors are going to see that the sector has multiple unicorns, they will want part of that potential while the market is still maturing
The leading sightseeing franchise brands in the sector are going to have to react as now it is clear GetYourGuide are heading their way (GetYourGuide's ambition is to be the leading experiences travel brand). Those projects they were 50/50 on previously are now 90/10.
Lifestyle business
When I first started in tours & activities (I had GetYourGuide speak at a conference I organised in 2011, when they had 35 employees), everyone's booking numbers were very low.
I remember going to meetings with potential investors & digital travel brands where I, the leader at the time in reservation system technology, was told I was in a lifestyle business. Very demotivating.
BUT NOW – now the roof is off! We can be super ambitious and get it funded. Indeed, we MUST be ambitious, setting up as a retailer just won't be competitive.
You've got to hand it to this new breed of founders who think so big. No doubt the GYG founders had a few chances to cash out on their journey, but have stayed focused on their goal of building a company that will be around for many years to come. https://t.co/UkTzHG1fbv

— rod cuthbert (@rodcu) May 16, 2019
Overall – I like it. Big validation for the sector. However, there are many potential losers as the industry pivots on its axis to the vertical. Don't be a loser… (Subscribe to DestinationCTO !)
Image: Development version of GetYourGuide from 2008, when it was being run from a college dormitory. At that time it was a local tour guide booking service. See how many GetYourGuide founders names you can spot….. I don't think this image has been seen in public before, one of the founders gave it to me 10 years ago… 
This content is protected by copyright. Link sharing is encouraged but duplication and redistribution is illegal
Comments
One response to "Threats and opportunities from GetYourGuide's 484 million USD funding"