Bike sightseeing tours won't survive if micromobility thrives
October 21st, 2019
Alex Bainbridge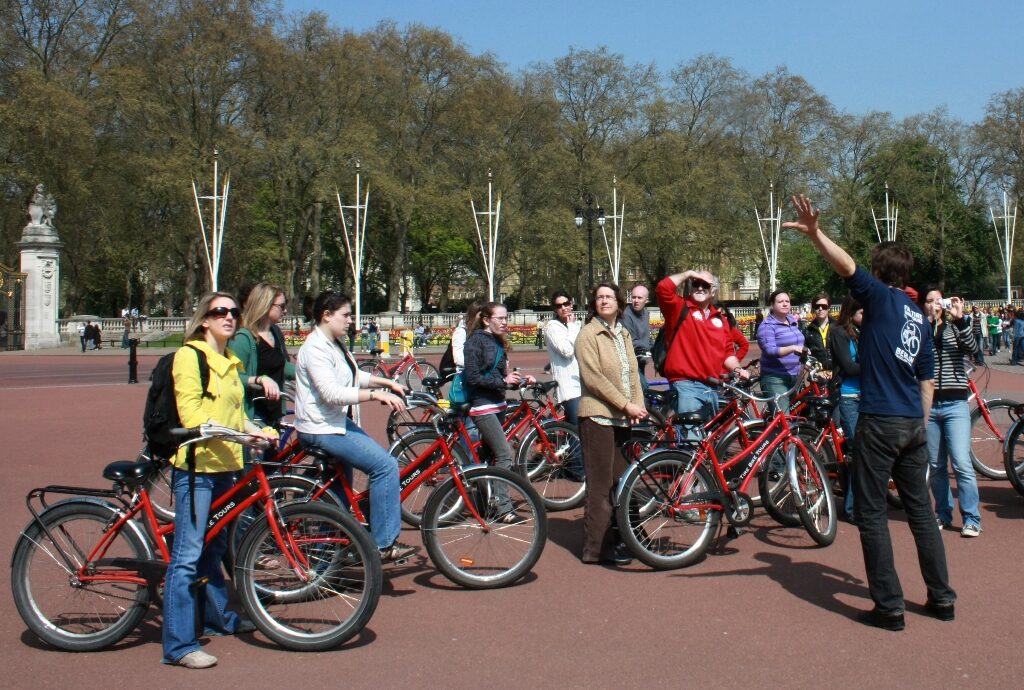 The sightseeing industry is a human tour guide lead industry. If you read reviews and testimonials on bike tour websites you will find that 90% are positive about the tour guide. Often the tour guide is more memorable than the sights the tourist came to see.
Not a bike tour guide, but memorable 😉
The best tourist guide I have come across in my career. Mr Prabhoo from Madurai. pic.twitter.com/BuhKKQ2VZN

— Amitabh Kant (@amitabhk87) October 3, 2019
We also know that bike tours are incredibly popular with tourists. This article, published by Arival, tells the story of Unlimited Biking and how they grew from 50 to 4,000 bikes.
Even taking into account the popularity of bike tours, and the memorability of human tour guides…. the key question I have as a digital entrepreneur focussed on sightseeing is:
Is the sightseeing industry a human business or could it become a software business?
Why is this an interesting question?
Micromobility, such as electric scooters or shared bikes, could account for more than 20% of total trips in Paris by 2030.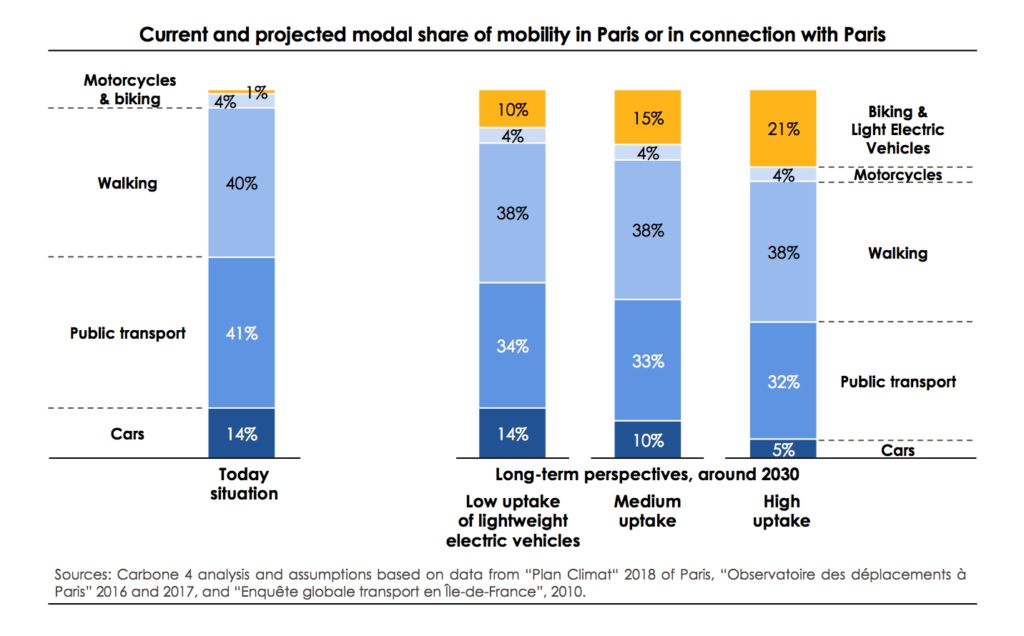 Read the full report from Carbone 4 (free)
Shared Bikes and Scooters Could Replace Nearly 50 Percent of Downtown Vehicle Trips (USA).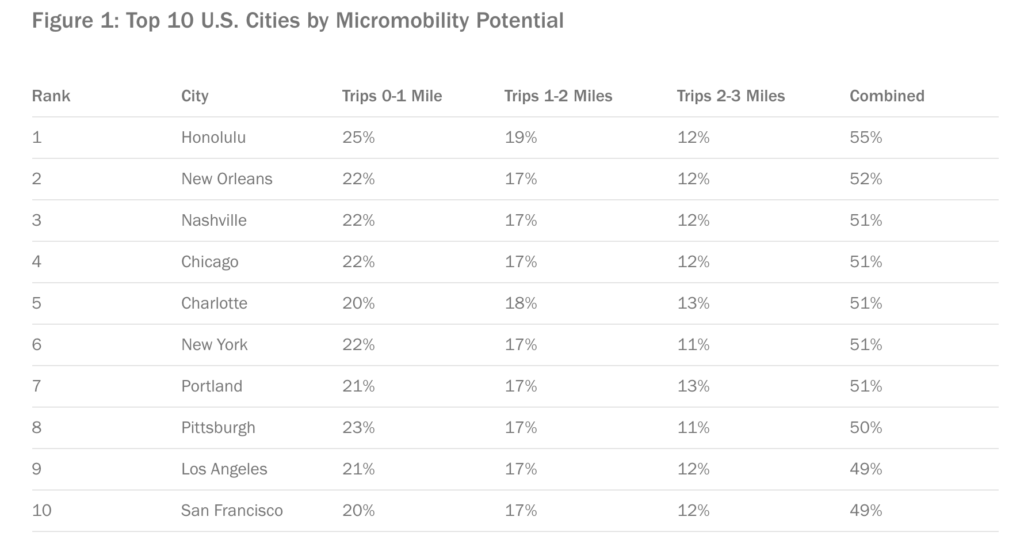 Read the full report from Inrix (with more data for UK / Germany)
If tourists become accustomed to micromobility in their home city, they will likely use micromobility when in tourist mode in other cities
It is clear that the bike / scooter itself, if micromobility thrives, will become a commodity (in the urban context – not mountain biking or multi-day road trips).
So what happens to the bike tours? Are bike tour companies sufficiently useful to tourists vs jumping on an electric scooter or shared bike? Why would a tourist take a bike tour instead of opening up their local scooter app, unlocking a scooter and setting off by themselves?
There is evidence tourists are already exhibiting this behaviour:
The use of electric scooters was legalised across Germany in mid-June 2019, in the hope that they might help to reduce the carbon footprint of urban areas – but first studies show the rentable vehicles to be mainly a fun gimmick appealing to tourists rather than a genuine alternative for commuters. Read more on the Guardian
In our industry, appealing to tourists is the aim 😉
Destination marketing organisations are getting into this sector too:
I gave a hands on workshop a couple of months ago at the Digital Tourism Think Tank (DTTT) conference how destinations can use micromobility to achieve their objectives (such as over tourism, local storytelling etc).
Scoot Spokane from tourist board Visit Spokane is a good example of a destination website focussed on educating tourists about safe scooting and where to scoot.
What does a bike tour operator do?
To help determine whether bike tour operators have a future, lets define exactly what a bike tour is and how that may change:
Bike tour deconstructed
provide the bike, including the ability to book the bike / multiple bikes ahead of time
a well designed route – not too long, not too short, not too many hills, includes all the points of interest
distribution / marketing as a discoverable "thing to do". A product, not a service, so able to be distributed to retailers
contact with a local – including the ability to ask questions & interact and ask questions like "where is the toilet", or to get guidance for other ideas of things to do on the trip e.g. "where shall we eat afterwards?"
something specific that local trade partners (hotel concierges, restaurants) could have experienced so are more likely to suggest to their own guests
contact with other travellers
children friendly
the cadence "come on we need to get moving…" so no one feels rushed and nothing on the itinerary is missed out
confidence that all is going to plan when taking the route – e.g. not having to worry about navigation
maintenance backup – if your bike breaks, or you get a flat tyre, someone there to help you
giving a safety brief
local emergency knowledge – dealing with unforeseen circumstances
local road knowledge – understanding where you can and can't ride your bike
access / local relationships – not just going into a shop, but going behind the scenes
ability to be able to tailor for specific customers – e.g. for cultural reasons…
be aware when someone is disappointed, and begin to try to address
sense of humour, and ability to understand when humour is appropriate or not
able to react to variable sights & sounds
optimised – taking previous feedback and incorporating into current concept
that extra "something" that comes from having passionate local entrepreneurs operating bike tour companies
Fundamentally the majority of the benefits derive from the human tour guide. They also minimise risk of spending limited time unwisely in an unfamiliar destination.
Can micromobility match that?
Certainly a tough challenge for micromobility to get anywhere close to that. As I said right at the start, great tour guides are great. The human looks irreplaceable.
What is a micromobility based version a bike tour?
grab a bike or scooter from the street, using a micromobility app. Pay as you go
select a route on your smart phone
start!
receive turn by turn navigation instructions to help you on your way
listen to audio guides
Is this immediately better than human guided bike tour? No.
To explain why perhaps this doesn't matter, some online travel industry history…..
Back in 2000 online travel agents were not better than human travel agents. Instead they offered a sufficient solution for mainstream customer requirements and additionally came with benefits that booking via human travel agents did not.
Likewise with micromobility based tours vs tour guide lead bike tours, there are additional consumer benefits:
start anytime, spontaneously
lower price point (due to removal of the human)
long tail, wider selection of tours
stop and start (e.g. go into a museum or restaurant half way)
multi-lingual (due to digital delivery)
digitally personalised
With online travel, incumbent traditional travel agents were put under pressure by digital travel agents even though the new entrants had a weaker product.
The same will happen with micromobility vs bike tours, assuming that scooters continue to be affordable urban transit solutions. If so, bike tour companies are obsolete, at least over the longer term.
Haven't we heard this all before with self guided walking vs tour guide lead walking tours?
Yes – we have. Fair point!
Self guided walking tour apps didn't kill the tour guided walking tour business…… my view is this is because those apps focused on the route, when as we described above, there are many components to what makes up a great human lead tour, due primarily to having a human involved.
Just replacing the route component was not enough. i.e. it was an execution failure, not a model weakness.
What makes the execution better this time?
Artificial Intelligence (AI).
The hypothesis is that the tech supports this evolution of the urban sightseeing tour:
Tour guide lead
Self guided (e.g. from an itinerary in a guide book, or an audio tour app)
AI guided
I believe that the transition to AI will be larger than offline > online that has happened in the last couple of decades.
At least with offline > online every company could, theoretically, create a website & trade, even though it was initially hard. AI however will only be available to the few who have conducted the necessary digital customer experience research & development. The resultant centralisation as a result of AI is challenging for the naturally decentralised sightseeing industry.
What is the state of the art with AI tour guides?
A few organisations have given this a go:
Whats interesting about these services is that mainly they have been created by significant companies from outside the travel industry!
They are all quite basic so far. Enough to replace a human bike tour guide? No.
Wider sightseeing & experiences industry implications
Fundamentally, if this hypothesis is proven, we could end up with a "retailer only" industry, no need for tour operators at all. Intriguing what you are called when you operate tours but you are not a tour operator.
e.g. how would you label this from GetYourGuide?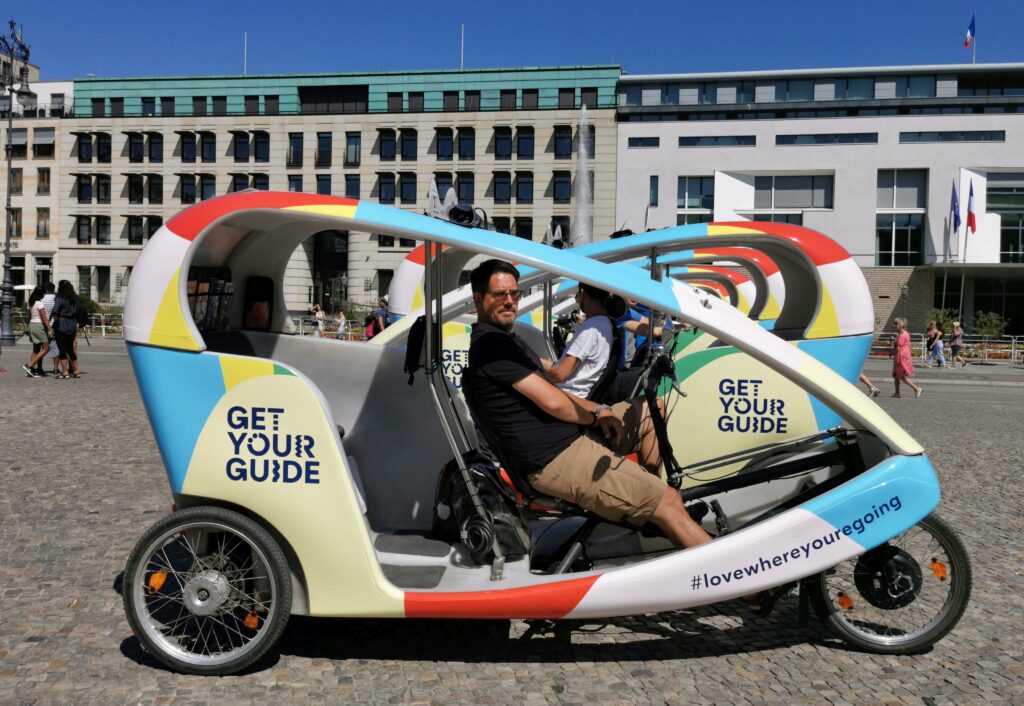 Distribution & Retail
I am not going to drill down on this too far (yet), but suffice to say a micromobility based tour can't be distributed using regular sightseeing & experiences distribution channels. This is primarily because:
That would need pre-bookable scooters (days in advance, not 15 minutes in advance like Lime currently offers)
Need to handle that we have a much broader collection of "tours" that a customer can take, all of which can be personalised at point of delivery
Most micromobility based experiences are "free" apart from the vehicle hire, so are hard to present alongside paid for experiences like current tours & activities
As a result we need a whole new retail layer, a whole new way of distribution to get these experiences to retailers and onto customers….. more on this another time.
For years we have looked at the tour & activity industry as a supplier / operator lead industry, and retailers are minor players. Perhaps we had this wrong, if this works as a model, perhaps we will find that it is the suppliers / operators who are the minor players (for urban sightseeing tours).
We are not there yet, but that is where this could theoretically lead. As someone who has now spent 20 years on the tour operator side of the sightseeing industry that would be quite an industry redefining outcome.
Final thoughts
This is NOT ABOUT whether people will still take bike tours with guides (they will) but whether they will in sufficient quantity to support a business owning capital assets (bikes). That I think is very unlikely as bikes are expensive and the market price for a bike based tour will crash as a result of omnipresent micromobility vehicles on every street corner creating over-supply of opportunity.
The assumption that underpins this outcome is that the VC backed micromobility platforms will be the companies owning the capital assets (the bikes & scooters) going forwards, not the bike tour companies. Another fundamental assumption is that micromobility succeeds with an easy access model like today (rather than e.g. monthly rental which would not work for the tourist use case). These assumptions are not locked in yet either, micromobility itself is still finding its feet on business models. (e.g. see recent price increases)
If micromobility becomes dominant within cities as a transport mode, where does this leave existing bike tour companies? What are their exit strategies? Who is going to buy a bike tour business now when the founder entrepreneurs want to quit? How quick will this change be?
My perspective is that existing bike tour companies will have to transition to being the experience layer brand on top of public micromobility platform owned vehicles. That is exactly what our Autoura platform provides to both sides. You know where to find me, bike tour companies… 🙂
Testing the hypothesis
In part 2 of this article I will discuss how we can test this hypothesis. I plan to run a public experiment that any reader can get involved with to see if we can get this to work. Still not a locked in certainty that it will. Perhaps we will find this is not what consumers want. Or perhaps consumer behaviour can be changed so we shouldn't ask them, we should show them 😉
This experiment will be a major execution challenge to get anywhere close to creating an AI powered digital product that replaces the human bike tour guide. Bike tour companies safe for the next few months 😉
Image: Flickr: Jaanus Silla
This content is protected by copyright. Link sharing is encouraged but duplication and redistribution is illegal
Comments
3 responses to "Bike sightseeing tours won't survive if micromobility thrives"