5 things everyone gets wrong about self-guided experiences
February 23rd, 2021

by Alex Bainbridge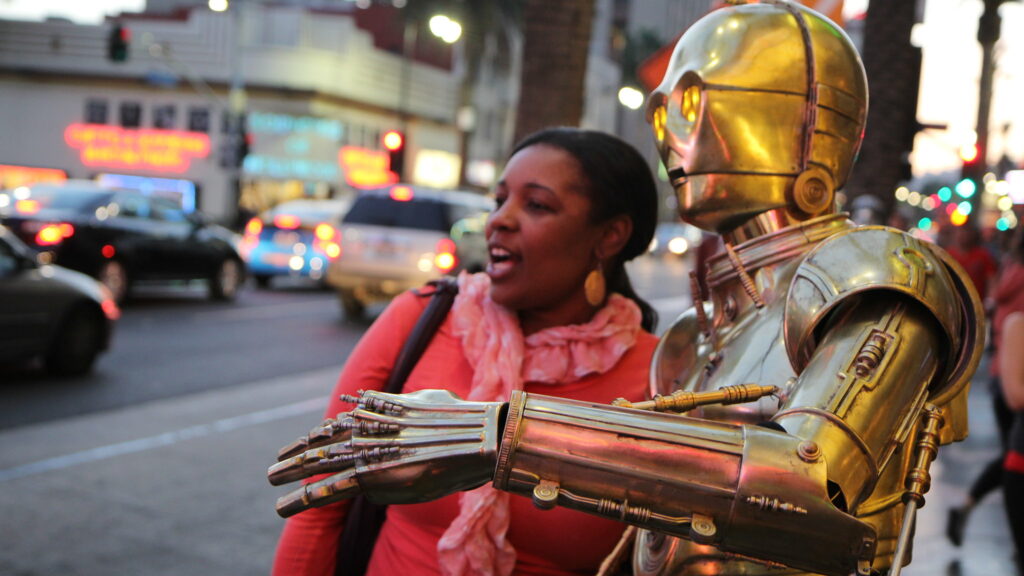 Self-guided experiences are the future of local tourism. Inspired by this article by Arival "5 things tour operators get wrong about self-guided tours" (and their upcoming self-guided tour conference) now seems a good time to go through what self-guided is and why it will be so important going forward.
At the end of the article are questions you should ask any self-guided experience platform if you are a local tour operator considering self-guided for the first time. Every local tour operator WILL be running self-guided experiences in 5 years time or be out of business so this really is something you need to master. They won't be called "self-guided" experiences then either, will talk about that at the end too!
The context
The upcoming technology evolution we are seeing today is much wider than technology changes within our sightseeing & experiences sector, much wider even than ecommerce or the web itself. We are all at the beginning of the 4th industrial revolution:
First industrial revolution – gave us steam – this enabled Thomas Cook and his early train based day trips
Second industrial revolution – gave us electricity, gas & oil – this enabled early vehicle based sightseeing. e.g. market leader Gray Line is over 100 years old and was one of the sector winners of the second industrial revolution
Third industrial revolution – gave us computers – this enabled ecommerce & distribution to online travel agencies etc – e.g. market leader Viator was one of the sector winners of the third industrial revolution
Forth industrial revolution – giving us AI powered software & robotics – this enables humanoid robots to speak & interact, and also enables autonomous vehicles. I plan to win this round 😉
Phew – yes 😉
Now onto the 5 things everyone gets wrong about self-guided experiences……
1 – The most successful business model is in-app purchase
There is significant diversity in business models for self-guided experiences:
Free to consumer, advertising based revenue – e.g. every time you open Google Maps you are taking a self-guided experience. Every time you navigate using an article written by a travel writer, you are taking a self-guided experience. Free is the dominant price consumers will pay for information (due to the almost zero marginal cost of service delivery). This leads platforms to advertising based business models, dominated, as you would expect, by global platforms such as Google
Consumer subscription – a good example of a successful subscription business model is AllTrails . 75 staff, 75 million USD funded, the largest global self-guided platform covering both urban and countryside. No options for local tour operators to get involved, however
Part of a larger purchase – for example Cerence, with 1300 employees (and a recent product called the Cerence Tour Guide built in partnership with Tripadvisor) is embedded within the navigation systems of 325 million cars. Those customers didn't specifically seek out the Cerence technology but they will use it as it is "what came with the car"
Free to consumer, transactional revenue – for example Autoura (my business), we are free at point of use but generate revenue from transactions. e.g. incorporating a museum or tour guide into a self-guided experience
However, most of what you hear about with self-guided is the "in app purchase" model.
This is where the consumer is asked to pay say 5-10 USD to download audio files to their mobile device. This model, although the most popular (by platform), is the least popular (by market share).
2 – The customer experience is poor (in comparison to human tour guides)
There is truth in this.
However, with the general improvement of conversational AI (e.g. GPT-3 from OpenAI) the customer experience will only get better over time.
Physically present human tour guides have reached their point of maximum optimisation and will, to take the next improvement step, have to become holograms streamed to tourists using 5G. At that point it will be digital vs digital, interesting to see who comes out ahead on that one.
Does poor experience even matter?
Yes. It can't be terrible. Leisure time is valuable even if the experience is free. I can't stress that enough.
Leisure time is valuable even if the experience is free
However, self-guided has two advantages over human tour guides:
Languages
C-3PO (pictured above) speaks 6 million languages(!), Sahra (our AI tour guide) can deliver every one of our self-guided experiences in 17 languages (and additional local dialects soon).
Self-guided is especially strong when there is no shared common language – e.g. a Chinese tourist in London taking a food tour in Chinese. This is something a human tour guide cannot deliver (generally speaking). An OK Chinese language food tour in London is more enjoyable for the Chinese tourist than an English only food tour delivered by an English speaking tour guide.
i.e. when there is no shared common language between the location and the guest, self-guided beats human tour guides.
As a result of this, when selecting a self-guided experience platform, ensure that it will cover 10+ languages. Most of the audio tour platforms only handle one language, normally English. This is useless for tourism if you have international travellers in your destination. If the platform says "you can upload as many languages as you like if you translate & record it yourself", thats OK, but you won't really go beyond 5 languages because of the return on investment on the lesser spoken languages……  not sure this is that helpful really.
Price
Price makes all sorts of problems disappear.
Take this photography tour in London. 88.72 GBP (125 USD) per person: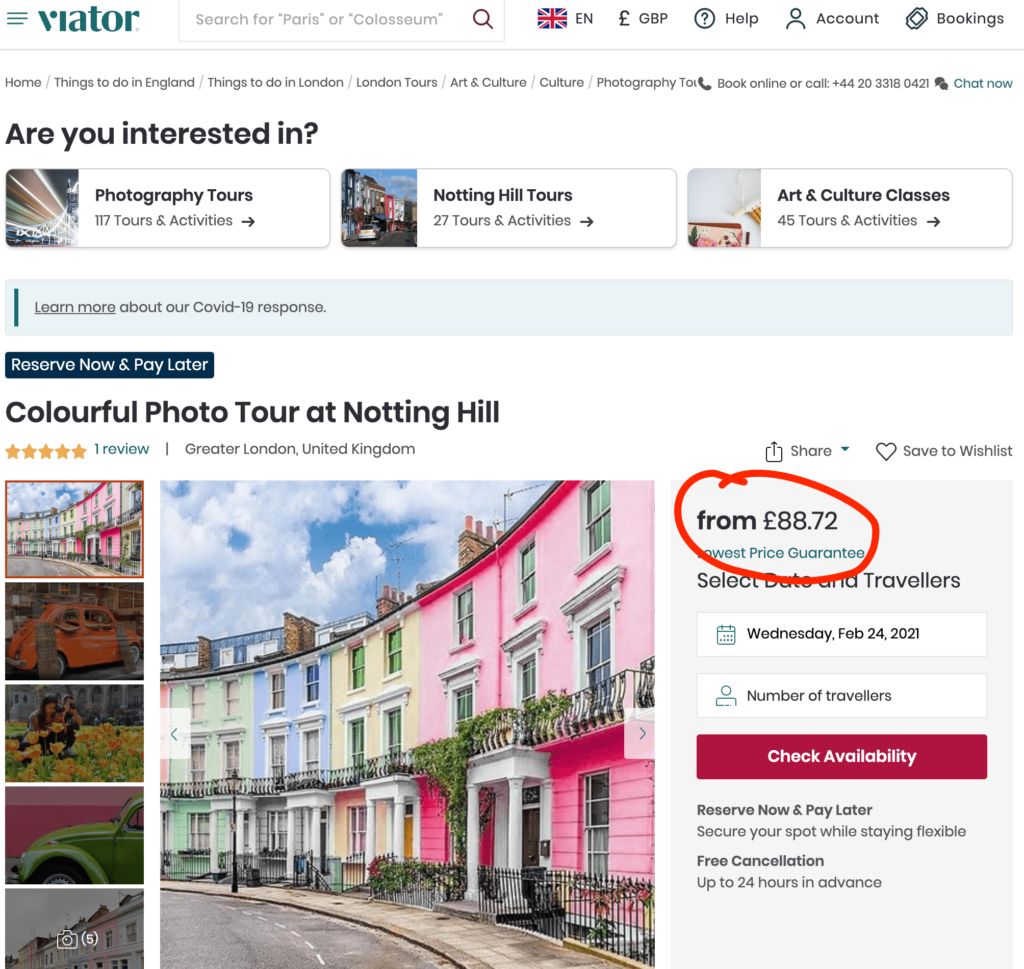 Here is our (Autoura) version of the same photography tour, free: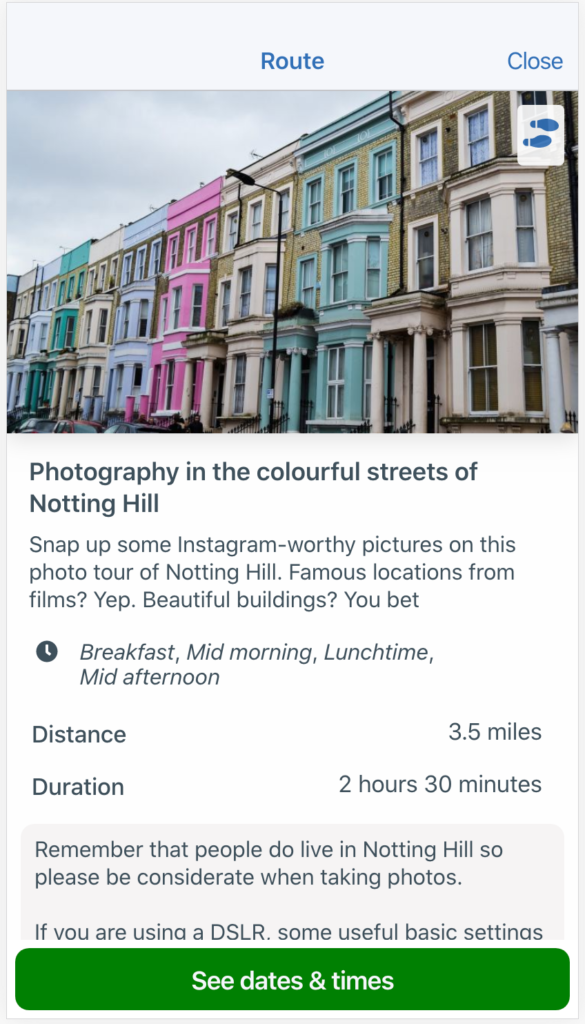 This is such a different price point. How do you compare 125 USD per person with a free product that is totally free?
If self-guided can get to the same approximate experience delivery at a totally different price point, self-guided wins.
(There is a big IF here, having just spent the best part of 3 years working on this technology, the execution required to capture all the necessary edge cases is immense, far exceeding my original expectations and far exceeding what I had to build when building TourCMS for the first time).
3 – Self-guided is pedestrian only
No.
Today we are operating pedestrian / bike / electric scooter & car. Later this year we will introduce autonomous vehicles.
I have written enough about autonomous vehicles on this blog so I don't really want to cover that all again!
Two key thoughts
The vehicle is not the experience. The vehicle is the glue. 
However initially the vehicle IS the experience. Picture this experience, with self-guided tech on top:
SoftBank
If you think self-guided experiences is a sideshow and we will all go back to talking about human tour guides soon…… think this one through:
SoftBank's Son expects mass production of driverless cars in two years
OK, we can find many similar predictions, some of which happen, some do not, however SoftBank is heavily invested in autonomous vehicles AND lead investor in GetYourGuide & Klook. This is going to be interesting.
4 – No humans are involved and the self-guided platforms are anti tour guide
This couldn't be further from the truth, however it does appear to be the attack line that incumbents use when they want to make fun of what we are doing. I smell fear 😉
Hybrid model
Speaking for my own platform, one of our key products is our hybrid model. This is a self-guided experience with a tour guide for part of the way. We do everything we can to physically incorporate humans back into our experiences.
So rather than being anti-tour guide, we are just pro new tourist mobility. Upcoming vehicles are smaller than current tour buses, shuttles & trolleys so we have to deliver the vehicle experience without a human tour guide present. Simple as that.
Human designed
Reading back on what I wrote about Person 2 Person marketplaces (P2P) I find this, originally Tnooz (now Phocuswire) from 2013:
The provider has to provide the tour

(a top guide on Vayable works six to ten times a month). One again, this is not the same as Airbnb, where once the keys are handed over, the provider of the service doesn't have to spend their time engaged with the customer.

Unless the provider wants to become a full time local tour operator, they are unlikely to wish to be booked out more than a handful of times per month, over the longer term.
The original problem with P2P marketplaces was finding amateurs who wanted to make themselves as often available as professionals are.
None of those P2P marketplaces flourished, WithLocals continues with the "few tours, many guides" concept where the itinerary is owned by the platform and guides put themselves forward to say they can deliver it. A great solution.
The self-guided solution is the local expert designs the route, and the self-guided platform delivers it on demand.
Here is an example of one of our (Autoura) self-guided pedestrian food tours in Stockholm. Mia, one of our designers, describes herself as:
"I'm a food writer and pastry chef with a heart throbbing for Swedish fika, the tradition of having a cake and coffee at all hours of the day. I've written guide books about Stockholm, I hold baking classes and walking fika tours and I write about café- and restaurant news and trends for White Guide. I love to help people find the right spot for the best pastries in Stockholm"
Self-guided has solved the long running challenge that P2P originally had. Self-guided experiences are actually more pro-local than professional tour operators…… but lets leave that debate for another time 😉
5 – A self-guided tour means it is self guided, and it is a tour
Nooo! OK I accept we have a naming issue!
I have three or four names to throw into the hat for what we should be calling this sector:
AI tour guide – a digital character acting in the role of a human tour guide. e.g. Sahra is an AI tour guide – you can talk to her, she talks back
R2P – where it is the local experts experience, but delivered by a robot 🙂
Auto-tour (where Autoura comes from!) – a sightseeing tour in an autonomous vehicle
However, what I am now using as the wider concept name is an "experience platform".
Was planning on introducing this term in a few weeks time but due to the upcoming Arival self-guided tour conference probably need to get it out and about now…… but will do more on what it is in a couple of weeks. In my definition WithLocals is an Experience Platform because they define the experience and their guides deliver it.
Questions for self-guided tour platforms
If you are a tour operator considering offering self-guided experiences in your location, these are the questions I think you should be asking:
Is your brand presented to your customers? If so, how? Does that branding stick to the customer after taking your self-guided experience so you build that relationship with your customer?
Does the platform support multiple languages (10+) by default? (see above for discussion on this)
Can you put your self-guided experiences on your own website using an API?
Can you incorporate your own tours, activities, attraction contracts & guides into your self-guided experience?
Do come and check out Autoura as we have the right answer for all these questions 🙂
This content is protected by copyright. Link sharing is encouraged but duplication and redistribution is illegal
Comments
2 responses to "5 things everyone gets wrong about self-guided experiences"