Is dynamic pricing for urban tours inevitable or will the market price go to zero?
June 18th, 2021
Alex Bainbridge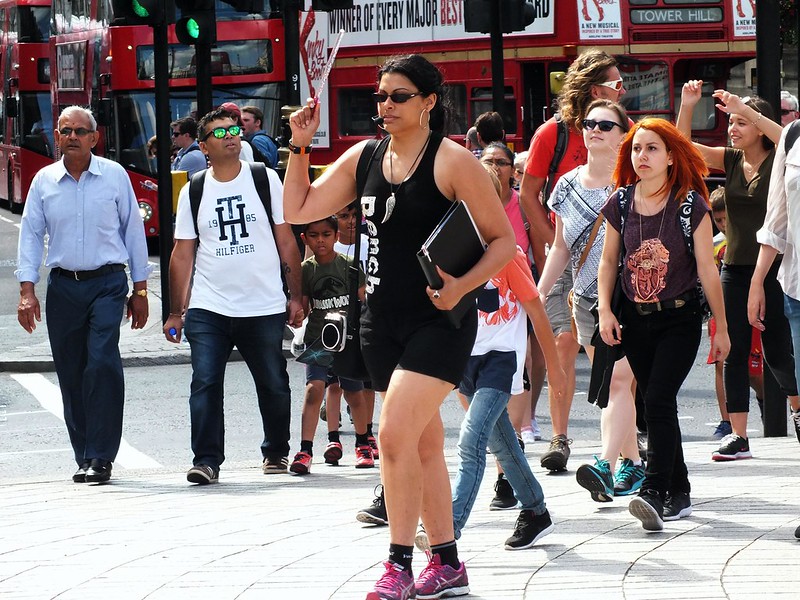 Yesterday Greg Fisher (CEO of TripShock / WaveRez) posed a great conversation starter on LinkedIn:
Dynamic Pricing in tours & activities is going to change everything as we know it
See LinkedIn thread, including 20+ comments
Dynamic pricing is a topic that I have written about before, however previously my attempts at discussing it have been over complicated. Time to clarify and explain why I don't see dynamic pricing as the best way to yield manage a tour, instead we should be considering class based yield management at destination or industry wide levels.
The second half of this post is about why urban tour prices are going to zero, so whether you dynamically price, or do class based yield management, both may become moot!
This post is mainly about day tours. Attractions yield much more like hotels as they are non-fungible. Activities can yield more like day tours or more like attractions….
With dynamic pricing….
Price goes up nearer trip time
This creates a greater price difference between this tour opportunity and alternatives.
The alternative is often a non-commercial option (e.g. go and sit on the beach) or an on demand tour experience (e.g. an audio tour or AI tour guide), which stay at their lower price point.
Consumer behaviour is fundamentally moving towards more greater spontaneity, is putting prices up as trip time nears a commercially viable option when new on demand alternatives exist?
Price goes down nearer trip time
If dynamic pricing is used to lower prices at the last minute then we as an industry need to think hard about cancellation & refund terms. Customers will otherwise cancel & rebook at the lower price.
So are we talking about prices only going down in the last 24 hours when refunds may not be permitted under cancellation terms? Are we talking about customers who are already booked on the same tour at the higher price being offered refunds for the difference? (in order to prevent cancellation & rebook behaviour)
Alternative
Both dynamic pricing approaches may work for an individual tour operator but not at a destination or industry wide level.
An alternative is…..
Class based yield management
For example, say you have one tour. Instead of changing that tour price dynamically (dynamic pricing) we set up the tour as two tours:
Enhanced tour: 100 USD
Regular tour: 80 USD
At any point you can stop selling either the enhanced tour or the regular tour, depending upon whether you want the direction of travel of the bookable price to go up or down. (It should be about margin, rather than price, but trying to keep this simple!)
i.e. you are controlling distribution by adjusting availability rather than price
Advantage of this approach is that consumers who have booked the enhanced version will stick on the enhanced version, those consumers booked on the regular the regular, you are not changing the price of a product that has already been booked. You are not creating cancellation & rebook pressure.
Second advantage of this approach is that for in destination sales, your prices are not so volatile, so you can still have prices on printed leaflets / posters etc.
Third advantage of this approach is that there is no incentive for a metasearch layer to form between consumers and the travel agents. With dynamic pricing you are giving an opportunity for startups to be "price hunters" on behalf of consumers. Do we want a metasearch layer? I don't mind actually if there is, but for companies retailing a priced product, this will be additional revenue share slicing that they can't afford.
In summary – we should not be talking about dynamic pricing, instead we should be talking about class based yield management.
Is this all moot for urban tours?
My hypothesis is that urban sightseeing tours are going to zero or near zero market price.
Two main reasons for this:
Improved public & shared transport
AI tour guides
Improved public & shared transport
Cities have a population growth problem. Almost one in three European cities will see its population increase by more than 10% in the next 30 years. Transport has to change:
This explanation from Horace Dediu goes further:
Today less than 20% of the world's population has access to personal transportation, similar to the share of the world's access to the internet in 2007 or cellular phones in 2002. Everyone deserves access to information and mobility, and we believe everyone will obtain it. If you don't agree, I would invite you to suggest how to stop 2 billion people from obtaining what the first billion got. We did not stop China, and we will not stop India or Africa, from motorizing.
As we look to the next 15 years, we believe 60% of the world's urban population will obtain personal transportation options. This means a fleet of at least 3.5 billion personal vehicles.
This goal must be achieved while reducing the emissions from personal transport by 20% and later by 50%, consistent with targets set for the sector. This target isn't just wishful thinking. It is set in law. Put another way, though some may try to skirt this target, it's increasingly likely that doing so will lead to time in prison.
This transformation of personal transportation to both increase its reach (by at least double) while doing so with a halved footprint will be monumental both in scope and character and similar to the transformation of personal communications over the last 15 years.
The phone made 3 billion people into networked computer users. Micromobility looks set to make 3 billion people into connected motorized users.
Urban transport will change. Urban transport has to become ubiquitous & cheap.

Source: Ark Invest Big Ideas 2021
Now consider how much urban tour provision is based on vehicle provision:
bike tours
segway tours
hop on hop off buses
vehicle based sightseeing
airport transfers
In a world of ubiquitous, cheap, public & shared transport – why do local tour operators need to own the vehicles themselves? They don't.
AI tour guides
The vehicle is not the only part of a tour that matters. The tour guide does too.
This is especially true when they are first person storytelling "my culture" or "here is how I make the wine". However with many tours the tour guide is not the first person storyteller, they are the glue holding the tour group to time, ensuring that tourists get to where they need to go.
You know I am building an AI tour guide, Sahra. This IS a really hard challenge. A factor harder than building the first tour & activity reservation & distribution system!
The key difference between human & AI tour guides is that the industry needs to change structure.
Instead of distribution of itinerary, price & availability and the receipt of bookings, we have to distribute the customer experience. This is a new way of thinking and I will come back to this over coming months & years.
How am I getting on? We just started consumer testing. Ideally we would have started consumer testing earlier but COVID lockdowns have caused some challenges to this particular timeline. As a result we are picking up things in testing that we should have picked up years ago.
Regardless, take a look at some of our published test results.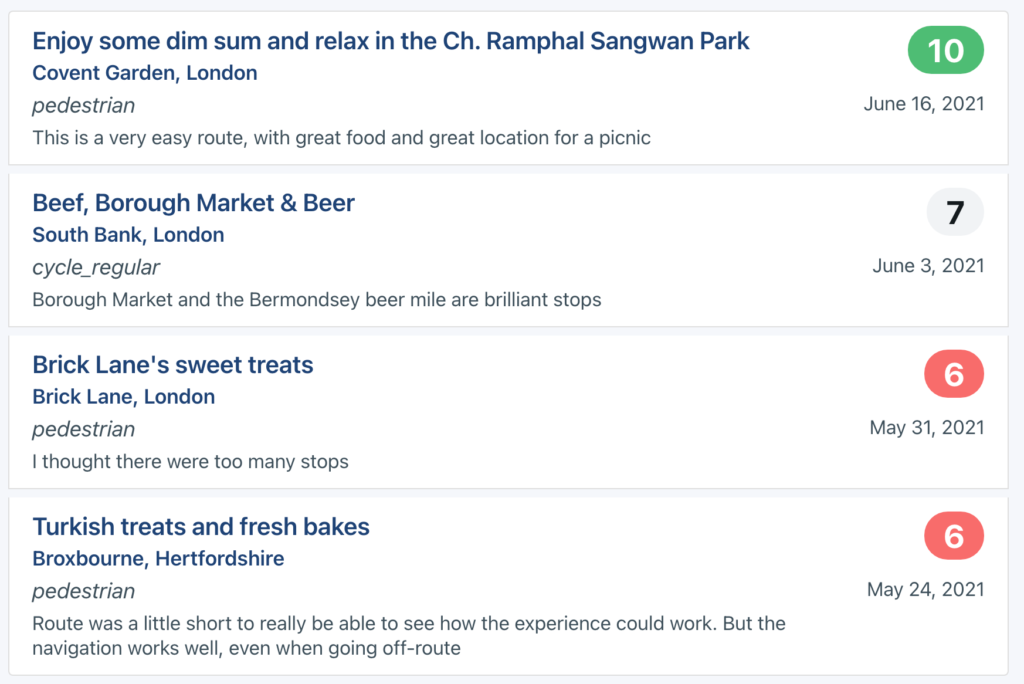 You can tap through to individual results and see all the gory tech detail!
Mainly we are currently testing our simple pedestrian & bike based food tours. Will start testing our more complex scenarios in the next month or so. We are also still looking for more testers….. we are now in 66 cities in 18 countries so testing could be local to you.
You will see that we are not far away from being able to deliver a totally free urban sightseeing tour at zero marginal cost. If the market goes to zero priced urban sightseeing, all conversations around industry wide dynamic pricing for urban tours will be moot.
Photo: Trafalgar Square tour guide by Waterford_Man (CC BY 2.0) (Source)
This content is protected by copyright. Link sharing is encouraged but duplication and redistribution is illegal
Comments
One response to "Is dynamic pricing for urban tours inevitable or will the market price go to zero?"