Accor's autonomous vehicle and future sightseeing ambitions
September 29th, 2021
Alex Bainbridge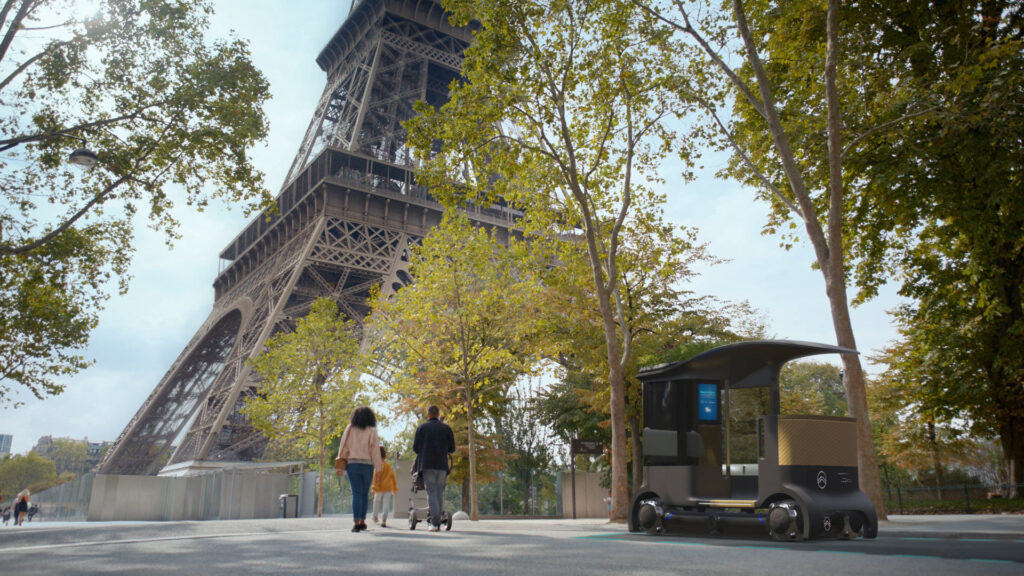 Accor today announced their autonomous vehicle concept that potentially could be reality in 5-7 years time. Accor is one of the world's largest hotel groups, with 5,200 hotels, so this move is significant if delivered as envisaged. For this blog's audience it is of interest due their focus on providing urban experiences & services to their guests, competing with vehicle and non-vehicle tour operators.
For me, this is a turning point. I first spoke about the impact & opportunity of autonomous vehicles within tourism & hospitality at a dedicated slot at World Travel Market 2017, followed by a dedicated slot at ITB 2018. 4 years later we have our first significant travel industry brands committing to major projects. Not with me however, but you can't have everything 😉
The clock is now ticking – we have hoteliers joining Google, Amazon, Microsoft, Baidu, Intel & maybe perhaps Apple in providing interesting local guest services. No announcements from any bus tour companies (yet)….
Accor has provided a great press release – let's dissect it
"We are delighted to be teaming up with Citroën and JCDecaux for this innovative project. With nearly 5,200 hotels worldwide, our Group is active in the local ecosystem and committed to offering ever more exclusive experiences, both to travellers and local communities, while contributing to the development of sustainable cities. Extending the hotel experience outside the walls of our establishments is in line with our bold and modern vision of hospitality."
Sébastien Bazin, Chairman and Chief Executive Officer, Accor
Extending the experience beyond the hotel – thats the key phrase all hoteliers will lock into. Much easier to do via digital experiences than with inconsistent human tour guides.
Whether heading to the best restaurants, the finest boutiques, to catch a train or a flight, to explore the city or simply to work, guests can live Sofitel's "The French Way" experience at their own pace, however they choose, on the move and on demand.
The vehicle is not the experience, the vehicle is the glue. As such, autonomous vehicles are all about places you drive to – e.g. restaurants & shops.
"At their own pace" – yes digitally delivered experiences have more flexible pacing unlike group tours where you must go at the pace the group leader sets.
Interesting to see mention of train & airport transfers. Transfers are a fairly commodity product with a high "don't mess this up" brand reputation risk if delivery goes slightly off schedule
Eventually, the pods could be reserved using the ALL – Accor Live Limitless app, the everyday lifestyle companion that brings together and enhances all the brands, services and partnerships operating within Accor's ecosystem.
The perfect upsell / cross sell.
Ultimate proof of the Sofitel service, a touchscreen tablet would allow a video-conference call to be made to a Sofitel concierge, to arrange a restaurant or theatre reservation for example.
How this business requirement is delivered will have moved on in 5 years time. But yes.
Announcement video
Watch if you have time….
Nice few shots of a tourist being taken to the Eiffel Tower……
Citroen pod
On this blog you don't want me to go into the hardware, however the important point is that the top part is interchangeable, enabling multiple vehicle variants on the same base. The base is where the cost is.
Accor has put their fitness brand and one of their hotel brands as concept pods in the initial announcement.
Wow, take a look at the amazing skate 🛹👀by @Citroen (@CitroenFrance) used to support our pods Sofitel en Voyage & Pullman Power Fitness ⤵️#TheUrbanCollëctif #UrbanMobility #Accor pic.twitter.com/AN6y8NAO9i

— Accor Group (@Accor) September 29, 2021
Further reading
Only 6 weeks ago I wrote my 2021 update for the autonomous vehicle state of play within tourism & hospitality. Take a read.
Now that Accor has announced the above, and Sixt their robotaxi, I will have to update the guide again! I will wait until my business is operating hospitality focussed robotaxi experiences in a few US cities (should be in the next few months, accurate short term ETAs outside of my direct control).
Image: Citroen
This content is protected by copyright. Link sharing is encouraged but duplication and redistribution is illegal
Comments
One response to "Accor's autonomous vehicle and future sightseeing ambitions"