Connectivity lead last minute bookings motivating Expedia & GetYourGuide to work together
September 15th, 2021

by Alex Bainbridge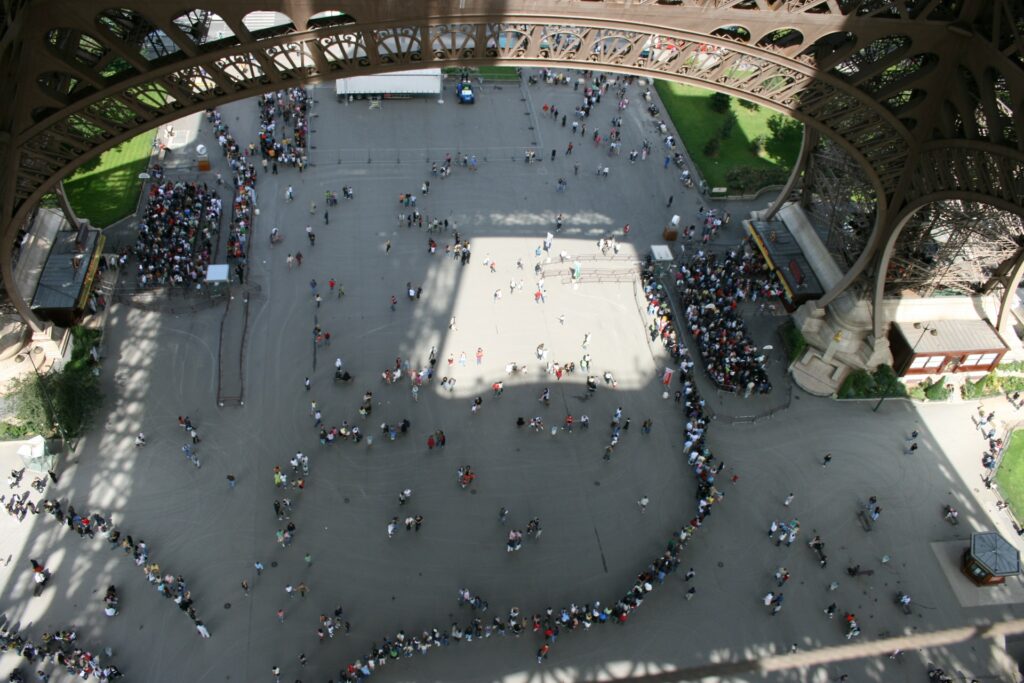 At the end of last week we heard that GetYourGuide is providing sightseeing & experience supply to Expedia (read Phocuswire for more).
This article speculates on why this relationship happened. I expect this is about last minute bookings.
GetYourGuide now has 150 reservation system connections (source). That seems like a long list. To connect up that number of systems has taken a good chunk of VC money and GetYourGuide needs their return on that investment.
Reservation system connectivity is fundamentally about accurate availability data – e.g. is this tour still bookable for 4 people, that starts in 3 hours time?
If you are standing in a queue (like Eiffel Tower above), and you are looking for alternatives to keep your family entertained, you are looking for now, not tomorrow.
Low booking cutoffs means everything in this mobile dominated world.
Quoting Expedia:
A high percentage of bookings on Expedia and associated sites are booked less than 3 days before the product's start time, and this percentage continues to grow as consumers opt to purchase their trips last minute using their mobile phones
Historical context
Before we get too deep into last minute booking strategies, important to remember where we collectively came from. Back in the day customers booked in one of two ways:
Via online travel agents (e.g. Viator) at point of flight / hotel booking – weeks in advance
In destination (e.g. via hotel concierges or ticket booths) – at the last minute
Following the iPhone launch and scale up 2008 onwards, mobile bookings and the desire to support spontaneous consumer behaviour generated last minute booking pressure. The original 48 hour booking cutoff became obsolete.
At around 2012 the expectation was "book the night before for the next day" (e.g. 12-16 hour cutoff). Around 2014 the booking cutoff expectation had reduced to 4 hours (i.e. consumers could decide at breakfast what they were going to do later that day).
The cutoff has stayed pretty much the same today as now the constraint is on the operating side, not the tech side.
Are online travel agents working with tour operators ever going to zero cutoff?
We suggest that a mobile oriented tour & activity booking platform will have a different product contracting need to a regular web based contracting requirement. Mobile is not your website product bookable on a small screen.
Fundamentally, we are now at the local maximum for last minute bookings (or local minimum perhaps!).
If online travel agents want to go below the 2-4 hour booking cutoff, they are going to have to design completely new experiences. Reservation system connectivity, and non-attraction products, won't get to the magic zero cutoff ambition that online travel agents hold.
What could that new approach look like……
Digital experience platforms
Digital experience platforms are natively zero booking cutoff platforms.
e.g. take a self-guided audio tour. A customer can start that on demand, NOW.
A more complicated example is how to use a digital experience platform to create a zero booking cutoff for a tour guide. (We can do this in Autoura).
Tour guide sets booking cutoff at 3 hours in their booking platform
Customer does 3 hours "self guided" and then joins up with the tour guide for the second half of their experience
If the tour guide wasn't initially available, the overall experience would not have been available
To the tour guide, they were booked on a 3 hour booking cutoff. To the customer, they booked a tour guide and started their experience immediately.
Summary
Great that GetYourGuide is locking in their reservation system connectivity advantage they hold……. however if they really want to take booking cutoffs to zero, their current approach won't get them there……
Image: Pexels
This content is protected by copyright. Link sharing is encouraged but duplication and redistribution is illegal
Comments
One response to "Connectivity lead last minute bookings motivating Expedia & GetYourGuide to work together"