Is it inevitable that OTAs go to 50% of the tour & activity market?
June 7th, 2018
Alex Bainbridge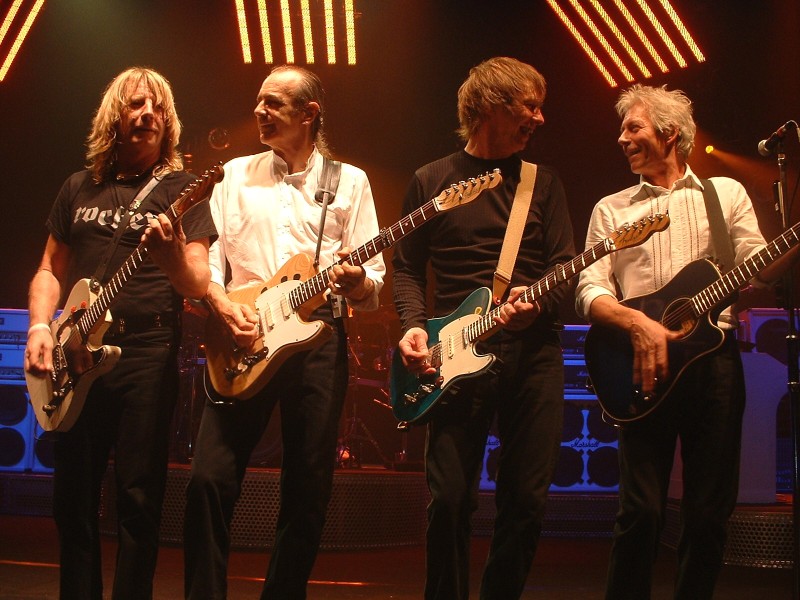 Image: Status Quo – Wikimedia
Last month I wrote about what may be next for tours & activities reservation systems following the news of Fareharbor selling to Booking Holdings and Bokun selling to Tripadvisor. A few more weeks have passed and the picture of how this will impact the sector is becoming clearer. It doesn't look good for reservation systems unless they change tack soon.
What got my attention is spending a few days at EyeForTravel Europe (in London), an enjoyable conference as you hear from airlines, hoteliers as well as tours & activities distribution companies. Great to get out of the tours & activities silo and mingle with people from other sectors we rarely speak to.
Reservation system price war?
Two striking notes from the conference – first a statement from Todd Henrich SVP Corporate Development – Booking Holdings
"May want to give the FareHarbor product away for free"
OK. I guess now that TripAdvisor has put Bokun to 0.1% (effectively free), the potential for Fareharbor to go to free was always there. Technically Fareharbor is free for suppliers today – it is customers who pay a service fee at point of booking (see image below) – but what matters here is not the contractual definition of free and who pays it, but that Fareharbor could join the price war with TripAdvisor / Bokun.
A technology platform price war is not an attractive proposition for the reservation systems who are on 3-5% booking fee business models.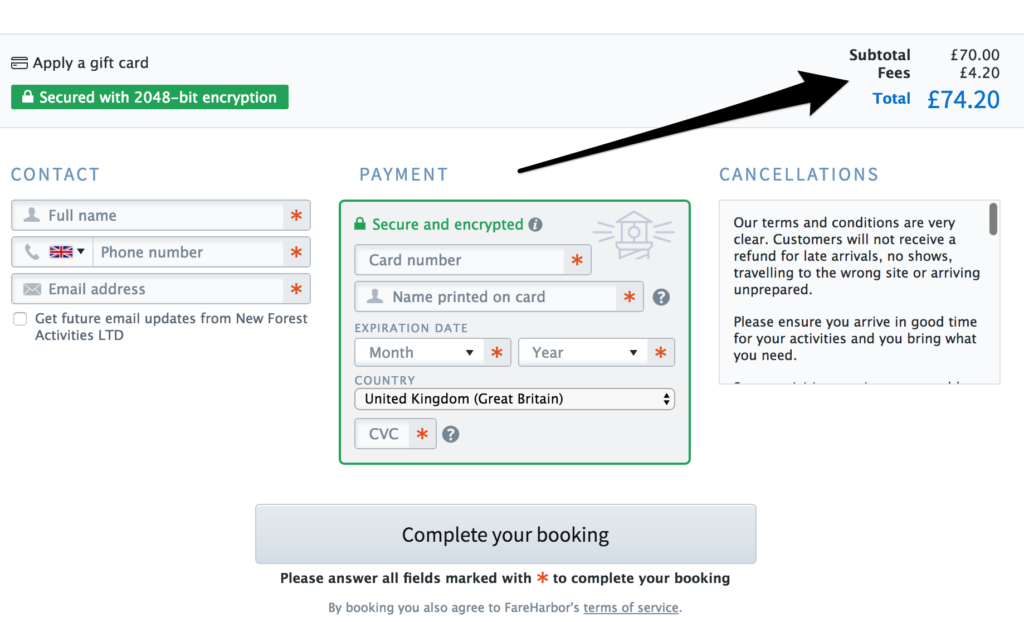 Shifting to direct
The second striking note from the EyeForTravel conference was some of the phrasing used by the hotel reservation systems. Frank Reeves from Avvio (a hotel PMS, which is similar to a tour & activity reservation system) was all about delivering more direct bookings, not online travel agent distributed bookings. Indeed their company tagline is "Be more direct".
If you go to the Avvio website the marketing phrasing is completely different vs our sector. The tour & activity systems are all pro-online travel agent distribution. Avvio is pro building direct transactions.
The reason this approach works for Avvio is the penetration of online travel agents in the hotel market. In tours & activities, depending upon who you ask, the OTAs are between 5-10% of the market. In hotels, the top 2 OTAs have 95% of the US market and two thirds of the global market. You can see why hotels are attracted by technology companies who will help build up their direct bookings again.
I expect that you will soon see the (unaquired) tour & activity reservation systems shift to a similar direct booking mindset.
If the remaining reservation systems take this route, and can execute on keeping OTA penetration below 20% of the market, the OTAs are going to regret starting a price war with companies who upto this point were their largest cheerleaders. This genie is not going back in the bottle!
Blockchain to the rescue?
One other strategy (that I can publish!) that could also be applied to restrain the growth of tour & activity OTA bookings is based on blockchain.
Fundamentally, the problem is that if you create a business that successfully holds back OTA booking growth, the OTAs will buy you and shut you down / incorporate into their service. The only way to make this work is to create something unaquirable.
A blockchain based approach with no single entity in command could achieve this objective.
The history of the travel industry has many such collaborations – Orbitz (US airlines), Opodo (European airlines), Andbook / Worldres (European hotels) were all initially multi-supplier collaborations, setup, yep, to counter the rise of Expedia / Priceline 18 years ago! We haven't had one of these in tours & activities yet as there hasn't been the need…..
The theory was, if you fragment the OTA market sufficiently, you would at least have leverage on price negotiations, if you have your own viable OTA alternative.
Personal note – Back in 2000/2001 I was head of Web for Andbook – funded by Hilton, Accor & Le Meridien – so saw this from the front lines. The primary reason this strategy failed at the time was industry wide budget slashing post 9/11.
Motivation
One nagging doubt I have about all of this is do the suppliers really care enough about the viability of the independent reservation system companies to support them with any changes they are, for self preservation, going to have to make? Perhaps suppliers actually want OTA bookings to move to 75% of their business as it would make trading "easy".
Perhaps they are just pleased that there are going to be multiple powerful OTAs all competing for their attention rather than Viator becoming the monopoly, as it once looked.
i.e. not a problem if the OTA market share goes to 75%, as long as there are multiple OTAs not just one.
Final thought
At this point, I am happy that I exited from the tour & activity reservation system business 3 years ago! i.e. I have no influence on anything that will happen! Interesting to watch though…
Image: Status Quo – Wikimedia
This content is protected by copyright. Link sharing is encouraged but duplication and redistribution is illegal
Comments
One response to "Is it inevitable that OTAs go to 50% of the tour & activity market?"