Decade prediction for sightseeing vehicles & announcing the Autoura Mobility Research Group
June 29th, 2020
Alex Bainbridge
I was meant to present an update about sightseeing vehicles at ITB Berlin in March 2020…… and we know what happened there!
Instead, from the comfort of your own home, let me explain how vehicle based sightseeing will change in the next decade, from my perspective…. at the end I will introduce our new cross-industry mobility research group that we are forming to better help existing tour operators prepare for the changes outlined in this article.
So grab a cup of coffee, this post has 30 minutes of videos….. You don't have to watch them all, however if you own tour buses or are a bike tour operator you probably should.
Five vehicle categories
I group sightseeing vehicles into these five categories:
Urban experiences / human driven – e.g. bikes, scooters etc
Non-robo-taxi autonomous – vehicles optimised for smaller scale roll-out
Autonomous robo-taxi – omnipresent vehicle transport
Autonomous mobile rooms – take your hotel room with you (like a campervan of today)
Air – off the ground
We could add water to this list too however that tends to come in many different forms, enough to create it's own list!
Urban experiences / human driven
Impact: Bike tours, Segway tours & some walking tours
I wrote about this last year so no need to cover that ground again: Bike sightseeing tours won't survive if micromobility thrives
Most recent news in this category was the demise of the stand up Segway PT. These were great vehicles for tourism as they were vehicles that you wanted to experience but not necessarily own.
Segway themselves suggest that scooters are the future (Tony Ho – Segway VP). (Oh and robots of course!)

What do you do now if you are Segway PT operator? Hard to move into scooter sightseeing as there are so many scooter companies with VC funding providing these vehicles everywhere.
The Segway S-Pod is an alternative. With what is likely to be a higher price point than the Segway PT, could you run a Segway tour business using S-Pods? Possibly, but it wouldn't be the same business as today.
I like the look of the Segway S-Pod as it is taking us towards the "And robots" future that Segway themselves predict. I can imagine these in autonomous driving mode although Segway themselves have not announced that.
While on human driven experiences, I do like the look of these amphibious sightseeing buses. I guess they are the modern version of the duck tours that are in many locations:
[Just watch for a few seconds to get the idea….. many more videos coming in this post!]
Not sure I would want to take that autonomously!
Non-robo-taxi autonomous
Impact: Any urban sightseeing experience provider

For the last 100 years, tour buses have had human drivers.
If you have a human driver, you need a larger tour bus (so the cost of the driver is shared over more paying customers)
If you have a larger tour bus, you need mainstream sightseeing product, in order that you can fill your bus to capacity as often as possible
If you have mainstream tour product, most people like it, but no one LOVES it.
This all breaks down when we remove the driver and drive autonomously:
The vehicle size can be smaller (e.g. 4-6 people rather than 30-50)
The experience can be personalised (as fewer people in the vehicle)
The experience can be non-mainstream (as now only has to appeal to 4-6 people, not 30-50)
So important to understand that autonomous vehicle sightseeing is not today's sightseeing product delivered without a driver. It is a completely new sightseeing product.
These vehicles can be used in attraction transit:
Tallinn Zoo, Estonia, has a trial project with Auve Tech.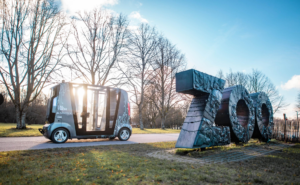 .. but are more likely to be a base for digitally delivered storytelling
e.g. the MOTIV by Gordon Murray Design is a 1-seater, with screen instead of a steering wheel. Ideal for destination storytelling. Will need to be a two seater however for most commercial uses….
This video has slightly too much engineering (unless you are into that), but the second half has more of the tourism use cases…
Car manufacturers also in the non-robo-taxi vehicle category
e.g. Volvo
Worth watching this through…. 
What is important about this interview is they list 4 use cases:
Commute to work – probably not our key interest
Alternative to office space – again, for the sightseeing industry, not our core problem
VIP Party – ok
Alternative to air travel – bold idea!
In recent days Volvo has signed with Google / Waymo to use the Waymo driver in their autonomous vehicles…… so this will be here soon.
The Volvo video hints that autonomous vehicles may be used for luxury……. but the winner so far in the luxury stakes has to be Rolls-Royce:
One thing I like about this design is you can see how Rolls-Royce has incorporated a voice assistant into the vehicle experience……. you can see now why we are building Sahra the sightseeing robot to fulfil this future consumer facing role.
Autonomous robo-taxi
Impact: Ground transport (e.g. airport transfers), out of city experiences (e.g. an afternoon drive out to a vineyard)
Robo-taxis are the core existential threat to sightseeing tour operators today. Three companies are operating commercial robo-taxi fleets today (by commercial I mean taking customer money rather than engineering pilots).
Google / Waymo
WeRide
Didi
For a sense of scale of where robo-taxis are heading, Didi is aiming for one million robo-taxis by 2030. Read the article on the BBC

Coming soon…
Cruise (from General Motors)
Showing us what a final robo-taxi design may look like (unlike the 3 videos above that are regular human driven cars that are driving autonomously)
Others
Amazon (last week purchased Zoox, to add to 2 previous autonomous vehicle investments)
Uber / Lyft
ArgoAi, Baidu and a few others
With all these robo-taxis everywhere, we won't have customer demand for tour bus delivered sightseeing product in 10 years.
Bus sightseeing operators will not need to own their own vehicles, they will have to pivot to become the experience layer on publicly available robo-taxis. (My original prediction from 2 years ago that companies had to transition by 2025 still stands, in preparation for this moment).
Autonomous mobile rooms
I love this vehicle category.
It is a few years behind robo-taxis but important that you understand that this is likely to happen also. At this point it is more a commercial problem than a technology one. Someone will take a VC punt on this at some point.
Tripyr
Well worth watching this video all the way through….
Autonomous Travel Suite
More of a threat to hotels than sightseeing, but interesting all the same…
Air
Impact: Ground transport / helicopter tours
One to keep an eye on. My favourite is human drones:
Thoughts for the sightseeing industry
I have spent the last few years going to vehicle industry conferences (and missing most sightseeing industry conferences as a result). That industry knows this change in mobility is coming, the sightseeing industry as a whole is late to react. Three key thoughts:
Don't buy human driven tour buses now – Covid done us a favour here, tour bus companies probably not buying buses for the next 24 months anyway, as budgets are destroyed. When leisure travel, and budgets for vehicle investments, return, there will be more options that fit within the new tourist mobility reality
There is talk that as a result of COVID the sightseeing industry may not get back to 2019 revenue levels until 2022 – by then this new transport will be more common, leading to digital delivery of sightseeing that is human delivered today. Digital delivery tends to be at a much lower price point than human delivery, as a result, the sightseeing industry may never get back to the high water mark of 2019. Tread carefully if you are a VC backed retailer as there is value destruction ahead
We need to decide if customers will likely want a sightseeing vehicle that is differentiated to what will be omnipresent robo-taxis – my (incompletely researched) view is that they will. A vehicle to hang out in for a few hours and is optimised for experience delivery rather than A>B mobility. Or are tour bus owners happy to become non-vehicle owning companies going forward, providing experiences via robo-taxi? That is where they are currently headed
Autoura Mobility Research Group
To bring some more research to bear on the problem that vehicle based sightseeing operators have with this upcoming change to mobility, I am launching our Mobility Research Group. We are going to undertake, and publish, customer experience research related to the new mobility outlined above.
Although some aspects of the Mobility Research Group are for our customers only, everyone is free to join our public #mobility Slack channel. Find out more…
Final thought
As shown in the videos above, Didi has started commercial robo-taxi operations and announced their 1 million robotaxi ambition. Waymo/Google is also operating commercially (in Phoenix, USA). WeRide also. The driving tech is undeniably hard, but with three independent companies now at commercialised robo-taxi stage, it is no longer a debate about whether it can be done at all.
Over the last two years since my September 2018 paper I have failed to convince the larger vehicle sightseeing companies that this day was coming, that they need to react as soon as possible to this existential threat (to them). Their perspective was this is all theory, this day would not happen for decades, it wasn't actionable. Well, that day is here NOW…!
Our tech is ready to go for vehicle tour operators who want to get going on their transition or local entrepreneurs who want to take advantage of the new opportunity…. The best time to plant a tree would have been 2 years ago when I published my paper outlining our Autoura project & transition plan. The second best time is now.
Image: Flickr : Richard – bus tour sightseeing 100 years ago, not much changed since then… 
This content is protected by copyright. Link sharing is encouraged but duplication and redistribution is illegal
Comments
One response to "Decade prediction for sightseeing vehicles & announcing the Autoura Mobility Research Group"